Beaney façade repairs get underway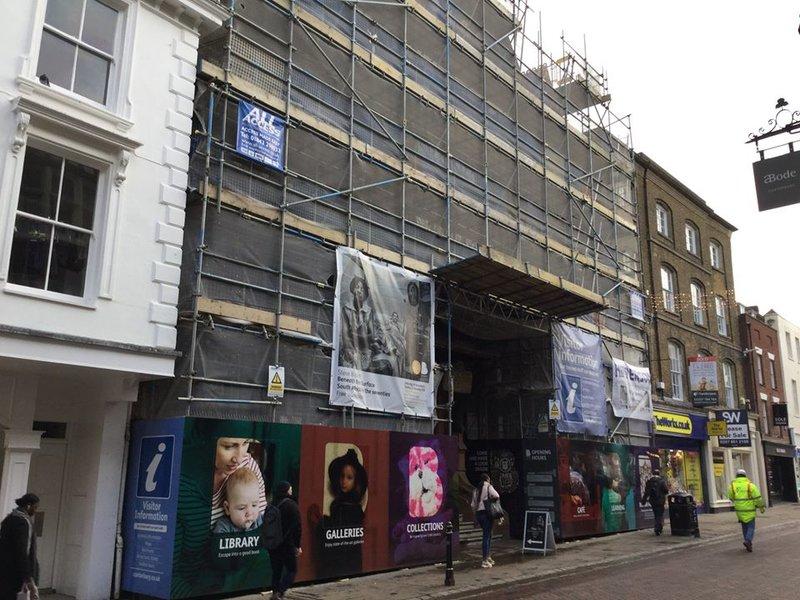 Extensive repairs to the façade of the Beaney House of Art and Knowledge in Canterbury have started today (Tuesday 19 November).
There are a number of elements to the project, which is costing the city council around £230,000.
These include major restoration of mosaic panels, which will be recreated as closely as possible to the original panels using documented evidence. Woodwork repairs and the repinning of a section of the top window are also planned.
In addition, sections of guttering will be repaired, some tiles will be replaced, linseed putty to the windows will be replaced and new bird spikes and netting will be installed. And the whole façade will be cleaned.
Problems with the façade were first uncovered last year when some stones from the mosaic started to fall away. Scaffolding was put up to allow investigations to take place along with netting to keep the public safe.
Head of Contracts and Facilities Management, Alexis Jobson, said: "This has been a complicated project and we have planned it very carefully, given the importance of the Beaney's instantly recognisable façade to the city centre.
"It is good news that work is now starting. We're looking forward to the scaffolding and netting coming down in due course and to people once again being able to admire the front of this historic building."
Work is expected to take around six months, although this is dependent on favourable weather over the winter.
The council is also moving forward with its plans to repair Canterbury Castle. Funding of £650,000 has been put aside in the draft capital budget for 2020/21. More information on this project will be available in due course.
Published: 19 November 2019