Canterbury's veterans share their stories for Armed Forces Week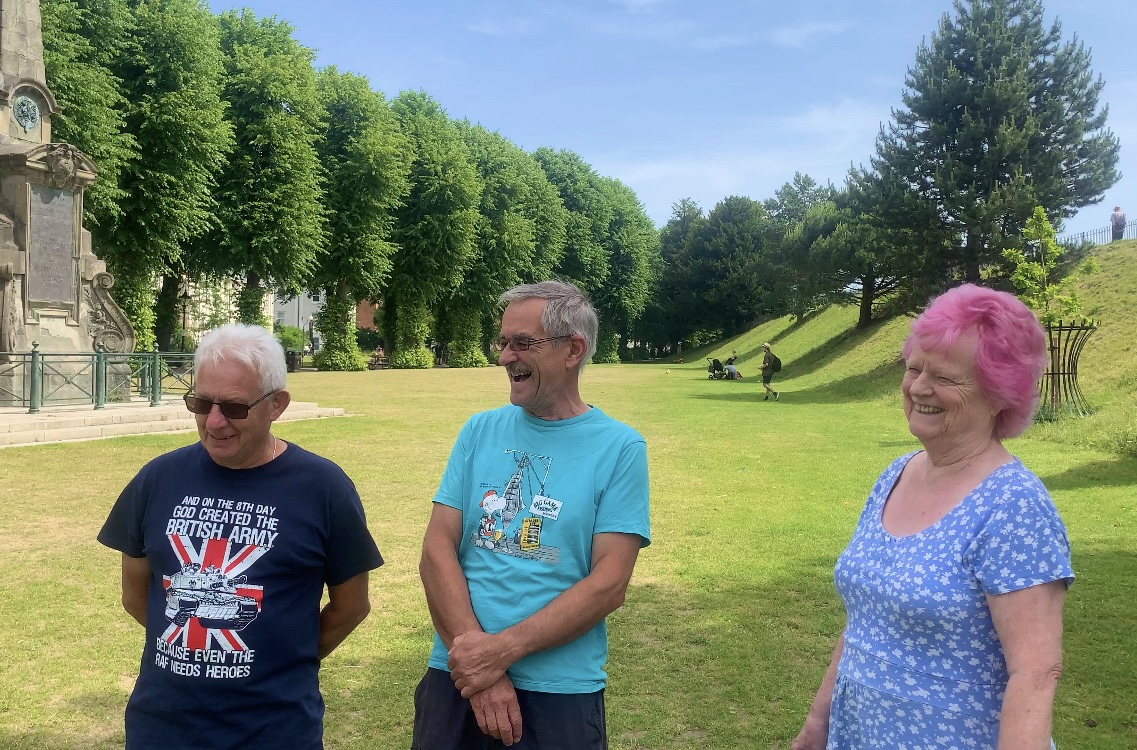 To celebrate Armed Forces Week, we met with Barbara Munns, Neighbourhood Centres Team Leader and Armed Forces Covenant Officer at Canterbury City Council, along with members of Canterbury's veteran community to hear about their experiences serving in the Armed Forces and what they get up to at Canterbury's Veterans Hub.
Many of the veterans we spoke to had lots of fond memories from their time serving, which they were kind enough to share with us.
Blue Cooper served 22 years in The Queen's Regiment and recounted six enjoyable months spent in Cyprus with the United Nations Peacekeepers and reminisced about the nurses who took care of him during one of his tours of Northern Ireland.
Jan Edis served in the Women's Royal Naval Service (Wrens) for four years and spoke about happy memories of going to the theatre and even attending film premiers while posted in London.
Andrew Heatlie, who joined the Forces in 1964 as a Royal Engineers Sapper, told us about his many postings to places like Germany and Northern Ireland during his 22 year career, recounting his work in Stanley, Falkland Islands building a hospital after the Falklands War.
As well as having their own unique experiences while serving, each veteran had a different story to tell of their career path once they left the Forces.
Blue left The Queen's Regiment in 1988 and became involved in welfare work looking after injured veterans and those suffering from post-traumatic stress disorder.
Mick Thompson, who began his career as a Royal Engineers Sapper through an apprenticeship, later left the Forces to work in the building industry and went on to start his own business.
After finishing as a Sapper, Andrew began working as a lecturer at Canterbury College. He said: "The skills that I'd learned in the Army certainly helped me as a lecturer. Being a Sapper, you're taught right from day one to use your initiative. If you see a shortcut and it works, take it."
What has brought Blue, Andrew, Colin, Mick and Jan together is they are all members of Canterbury's Veterans Hub.
The Hub is a community service which provides veterans the opportunity to socialise with fellow ex-Armed Forces residents and connect through shared experiences.
Jan told us that "it's a different sense of humour in the Forces. We had different words and different values."
This shared language of those who have served was echoed by Andrew, telling us that this is what makes Canterbury's Veterans Hub so special: "It's a place where soldiers, sailors, airmen, Wrens, WAAFs… can come together and we just talk. And we talk a language which we all understand."
Colin, who served 11 years in The King's Royal Hussars, has been helping to build and maintain the new wellbeing garden at Spring Lane Community Centre as part of the Veterans Hub alongside Mick. Together they built raised flower beds, planted them up and continue to keep them looking lovely for others to enjoy.
Speaking about how the Veterans Hub has helped him, Colin said "it's really good for the mental wellbeing… I've retired so it gives me something to do. Barbara and her team do a brilliant job."
Cllr Joe Howes, Cabinet Member for People, said: "We are immensely proud of the district's veterans, not only for their dedicated service to our country but for the important part they play in creating a vibrant local veteran community.
"Canterbury's Veterans Hub is an important initiative which we are really pleased to support and it is wonderful to hear the positive impact it has had on members' wellbeing and sense of belonging post-service."
To honour those who have served, a flag raising ceremony will take place in Dane John Gardens on Armed Forces Day, Saturday 25 June at 10am. The event will be attended by the Lord Mayor of Canterbury, Anne Dekker, Armed Forces Champion, Pat Todd, and Armed Forces Covenant Officer for Canterbury City Council, Barbara Munns.
Published: 22 June 2022