Council says thank you for 100 years of service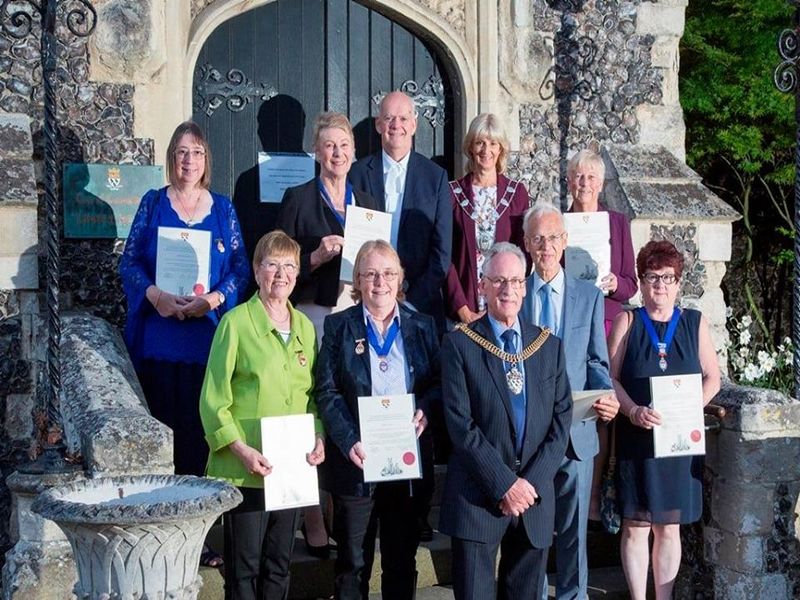 Seven former councillors with more than 100 years' service between them were made Honorary Aldermen at an extraordinary meeting of full council last Thursday (5 September).
Among them was Charlotte MacCaul, who served six terms as a councillor from 1995 to 2019.
To become an Honorary Alderman, former councillors needed to complete at least three full terms of office or a minimum of 12 years, or at least two full terms and also served as Lord Mayor, Deputy Lord Mayor or Sheriff during those periods in office.
Those who were made Honorary Aldermen were:
Rosemary Doyle, who served five terms as a councillor from 1999 to 2019 and was Sheriff in 2016 and Lord Mayor in 2017

Charlotte MacCaul, who served six terms as a councillor and was Sheriff in 2008

Sharron Sonnex, who served three terms as a councillor from 2007 to 2019

Ann Taylor, who served two full terms as councillor from 2007 to 2015 and from 2016 to 2019. Mrs Taylor was Sheriff in 2013 and Lord Mayor a year later

Heather Taylor, who served three terms as a councillor from 2006 to 2019 and was Sheriff in 2012 and Lord Mayor in 2013

James Walker, who served three terms as councillor from 1985 to 1999 and was Deputy Lord Mayor in 1995

Sally Waters, who served two terms as a councillor, one in 2007 to 2011 with the other 2015 to 2019. Mrs Waters was Sheriff in 2010 and Lord Mayor in 2015
Canterbury City Council Chief Executive Colin Carmichael said: "Councillors are often portrayed as power-mad busy bodies who enter politics purely out of self-interest and to feather their own nest. They get an enormous amount of stick and almost constant criticism.
"In reality, they are people who are determined to make the district a better place and give up countless hours helping their constituents, solving problems and representing the interests of those who voted them in. Apart from a small amount of expenses, they are not paid and are essentially volunteers who also offer their expertise and time to local charities and other organisations.
"Making them Honorary Aldermen is a small way the council can say a big thank you for everything they have done and continue to do."
A majority of two thirds of the councillors present voted to confirm the appointments before the Burghmote Horn dating back to 1155 was sounded. Each Honorary Alderman was then presented with a badge and certificate by the current Lord Mayor of Canterbury, Cllr Terry Westgate.
Published: 9 September 2019