Council secures farmer compensation after waste dumped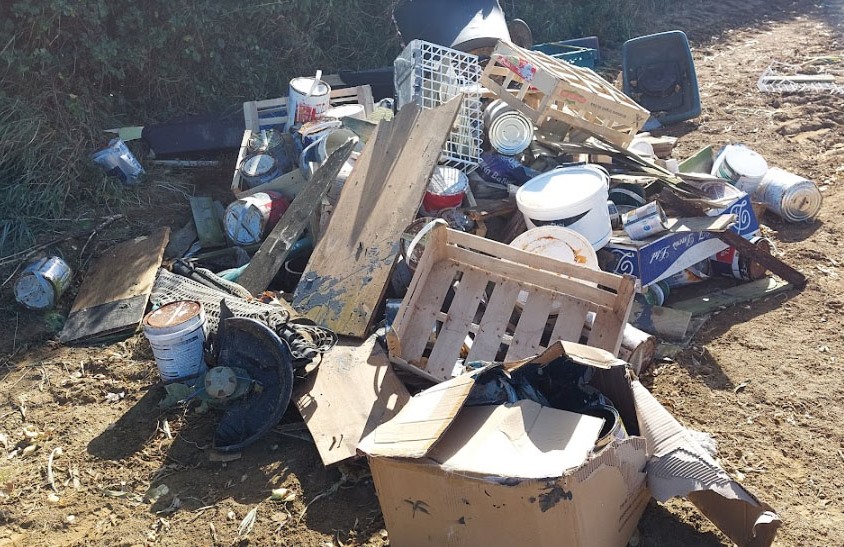 A Herne Bay man who dumped waste in a farmer's field in Reculver has pleaded guilty to the offence in court and must pay £500 compensation to the farmer, following a request by Canterbury City Council.
Ambrose Jones, 48, of Victoria Park in the town, appeared at Medway Magistrates' Court on Wednesday 1 March in a case brought by the city council.
The court heard that the landowner reported a flytipping incident on their land on 26 September 2021 to Kent Police. It included empty containers, garden tools, furniture, household waste and pots of paint (pictured above).
The case was passed to the council's environmental crime team and officers investigated, gathering evidence from the site which resulted in Mr Jones being identified as the person who had dumped the rubbish.
In court, the council asked magistrates to prioritise the payment of £500 in compensation to the farmer, who had had to spend their own money clearing the waste from their land.
Sentencing Mr Jones, the Chairman of the Bench, Carlos Forni, said: "This was an outrageous offence. To dump rubbish on other people's property is terrible behaviour and it is simply unacceptable the way you behaved."
Taking into account his guilty plea, the court ordered him to pay the compensation the council requested in full, as well as £500 costs to the council and a £95 surcharge. A Community Order of 12 months requiring him to carry out 100 hours of unpaid work was also imposed.
The council's Cabinet member for enforcement and open spaces, Cllr Ashley Clark, said: "This was an excellent result from a determined investigation by our environmental enforcement team. It is pleasing to note that the magistrates are finally recognising the effect this despicable type of offence can have on those who work so hard to feed us.
"As well as the financial penalty, the offender will have 100 hours to contemplate the error of his ways and a criminal record to go with it."
Kent National Farmers' Union adviser Amanda Corp said: "The news of this successful prosecution acts as a deterrent to flytippers and the award of compensation to the farmer is also welcome news, as this is something the NFU has been lobbying for.
"Nevertheless, we would still like to see even tougher penalties given the true costs of clearing up illegally dumped waste and the stress that farmers and landowners suffer in dealing with flytips."
Published: 6 March 2023