Dumped rubbish leads to £300 fine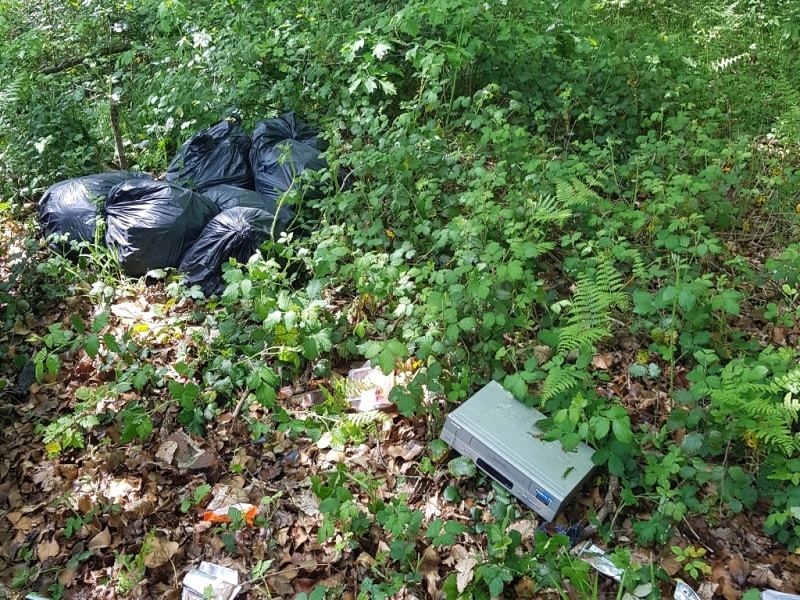 A woman has been issued with a £300 fine by Canterbury City Council for not making sure her rubbish was being disposed of responsibly.
She was issued with a fixed penalty notice after her waste, including an old video cassette recorder and six black bags (pictured above), was found flytipped in Thornden Wood Road between Herne Bay and Canterbury.
She paid £90 to someone she found on Facebook to take it away and, because she did not have a receipt, invoice or other paperwork, she was unable to prove she had checked they were a licensed waste carrier.
The council's Head of Safer Neighbourhoods, Doug Rattray, said: "We are determined to catch the people who fly tip rubbish across the district and blight our beautiful corner of the Garden of England. But householders who are paying for their rubbish to be taken away need to live up to their responsibilities too.
"While shady criminals make money from acting illegally, our council taxpayers or landowners foot the bill of the clean up which is clearly unfair.
"If we find your rubbish dumped by the side of the road, in a layby, in the woods or anywhere else, we will be knocking on your door and asking you to prove you paid a licensed carrier to take it away – a receipt, invoice or other paperwork is a good start as well making a note of the truck or van's registration."
People or businesses who collect, transport, buy, sell or dispose of waste must be registered and have a licence from the Environment Agency which they can show their customers.
Residents can check whether the person collecting their waste is legitimate by visiting the Environment Agency's online Public Register.

Published: 22 June 2020