Free Wi-Fi set to welcome back visitors and boost businesses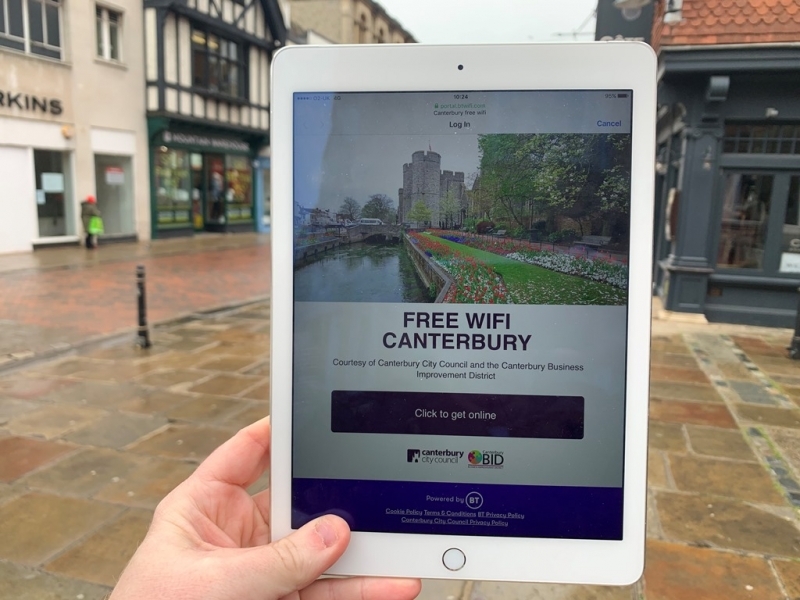 Free Wi-Fi is now live across the city centre in a project that will play a major role in welcoming back shoppers, tourists and those wanting a drink or bite to eat when lockdown restrictions are eased later this year.
Canterbury City Council has worked with BT to invest almost £700,000 to upgrade the district's ageing CCTV cameras, servers and control room, along with the installation of 46 city centre Wi-Fi hotspots at the same time that anyone can use.
The Canterbury Business Improvement District (BID) has contributed more than £26,000 to the Canterbury element of the scheme helping to expand coverage across the city. It will also pay towards its running costs.
Leader of the Council and Lead Councillor for Digital, Cllr Ben Fitter-Harding, said: "A lot has changed during lockdown and now, more than ever, our shops, bars and restaurants are being helped by digital technology – whether it's for ordering, click and collect or just checking new opening times.
"Free Wi-Fi across the city centre will give fast internet access to our residents and visitors, finally plugging the mobile phone coverage not-spots with hotspots instead and ensuring our businesses can unleash their full economic potential as they reopen."
Users just have to click on to Free Wi-Fi Canterbury and accept the terms and conditions to access the internet.
Cllr Fitter-Harding added: "The beauty of this scheme is that it is quick and easy to use without the need to jump through a whole host of hoops to get connected.
"This sort of connectivity opens up a whole raft of opportunities to use technology to make our city smarter including different ways of monitoring the environment around us such as air pollution.
"On top of all this, our upgraded and modernised CCTV system cannot fail to make an extremely safe city even safer especially for our busy, bustling and vibrant night-time economy,"
Lisa Carlson, Chief Executive of the Canterbury BID, feels the new system will complement the way city centre businesses have adapted over the past year.
She said: "Canterbury's beauty lies in the fact it is a medieval city steeped in heritage and history but it is one that is constantly changing and adapting to the modern world around it to give visitors the best possible experience.
"Helping our customers have the information they need at their fingertips for free, for example to connect with friends or find a certain shop, is a big boost for the city's businesses whatever sector they are in.
"This scheme coincides with the rollout of the free THE LOCALE app which tells you how busy your favourite shops and restaurants are in real-time and allows business owners to let their valued customers know about the offers or promotions they are running or are about to run.
"Putting the visitor experience front and centre in this way makes it more likely people will stay for longer next time around and will be keen to combine business with leisure or vice versa which will increase the number of overnight stays in the city.
"This system will also give the council, the BID and businesses a real insight into footfall, Wi-Fi usage and how people enjoy the city so we can make their experience better and better."
The CCTV upgrade and installation of the Wi-Fi hotspots throughout the city has been undertaken by the experts at BT who overcame the challenges of deploying a major upgrade during the Covid-19 pandemic.
Brian Jackson, Director of Surveillance Solutions for BT's Enterprise unit, said: "We're excited that the first step in the city's digital transformation is now complete, with Canterbury now well positioned to take advantage of further smart technologies, many of which could play a pivotal role helping the city working towards a sustainable future.
"This major upgrade of Canterbury's CCTV network and the installation of the council's Wi-Fi hotspots will provide much better connectivity for residents and visitors to the city.
"As part of this project we have also installed a data network system that links to the camerato control road access bollards for access into the city centre."
Published: 16 March 2021