Have your say and help improve diabetes care in east Kent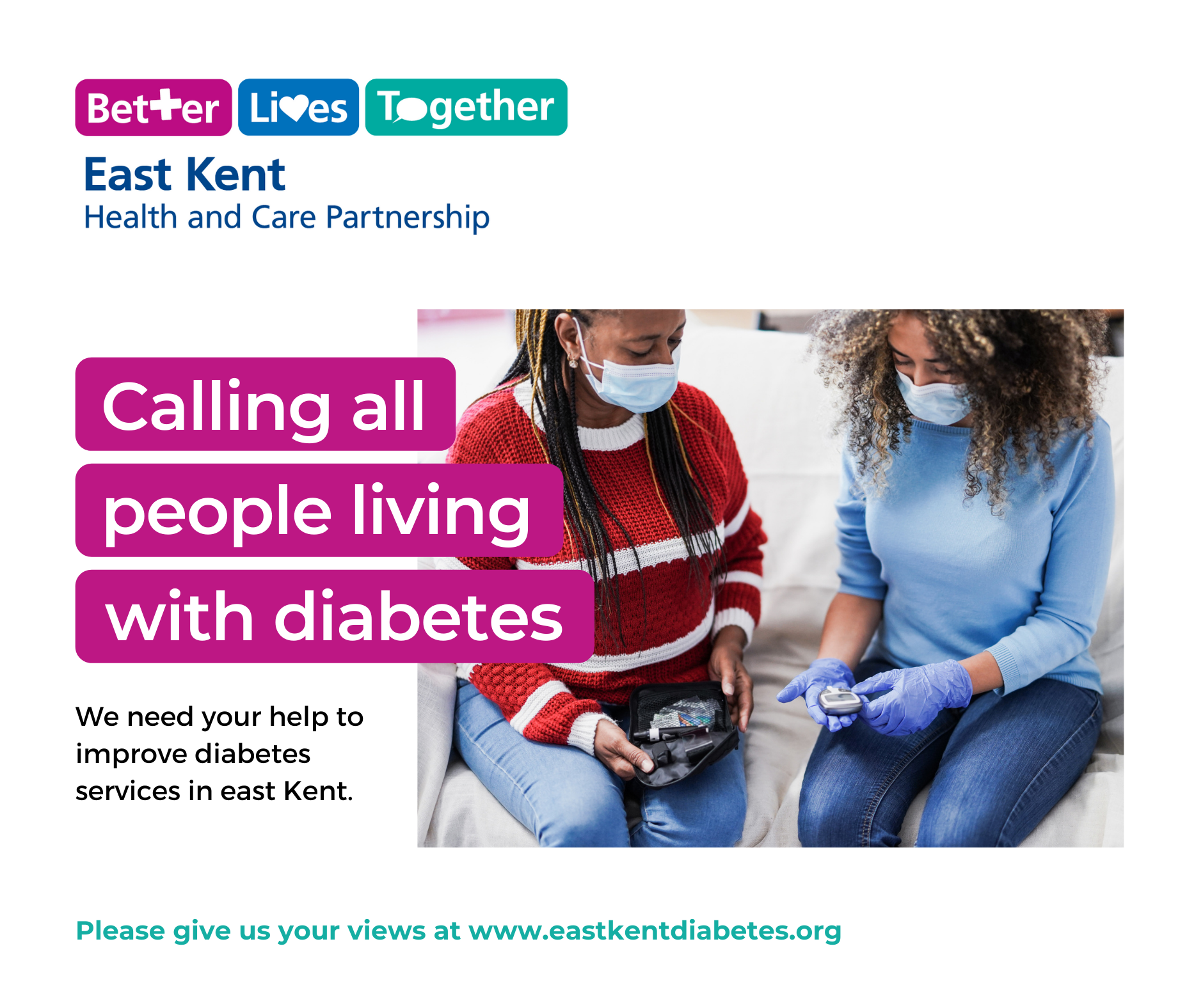 People living with diabetes, their family and carers are being asked for their views on a major programme to enhance diabetes services.
Led by diabetes specialists from the NHS and local councils in east Kent, the aim is to deliver more effective and accessible care, as well as prevent people from developing the disease through improved education.
In east Kent, there are almost 40,000 patients diagnosed with diabetes and numbers are increasing. To improve the care for people, specialist clinicians are recommending a new approach, building on the success of services in west Kent.
This proposed new way of working means more specialist services being delivered in GP practices, reducing the need for patients to travel to hospital for straightforward treatment.
After listening to patients, clinicians are proposing a number of other recommendations to improve diabetes care, such as enhancing foot care services, introducing a new local insulin pump service and increasing the use of technology to deliver care.
The need to enhance diabetes services was raised by East Kent Health and Care Partnership (EKHCP), a collaboration of organisations, which have come together to provide better health and care for the people of east Kent.
GP and Chair of the Clinical EKHCP Board Sadia Rashid said: "Diabetes is the fastest growing long-term condition. If not managed properly, it can have a huge impact on people's lives. That's why we want to improve the support to help people lead as normal lives as possible, stay well and even prevent it.
"We want to hear from people, living with diabetes, about our proposals and would urge everyone to respond to the survey."
Gary Fagg MBE, Chairman of the Trustees at the Paula Carr Diabetes Trust, said: "We are proud to be part of this programme and really welcome the importance that has been placed on understanding the views of people living with diabetes. I would encourage everyone to respond so we can meet the needs of local people as effectively as possible."
A dedicated website – www.eastkentdiabetes.org – has been launched to explain the proposed improvements to diabetes services. People can fill in the survey online now until 23 April (www.smartsurvey.co.uk/s/EastKentDiabetes2021). If you would like a paper version, leave your details on 01233 616047 and one will be sent to you, please return to the freepost address: PAULA CARR DIABETES TRUST.
Published: 9 April 2021