Joint operation cracks down on unlicensed waste carriers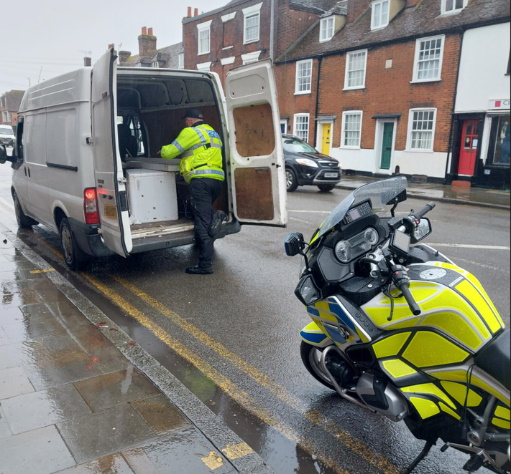 An operation cracking down on unlicensed waste carriers and scrap collectors doing business within the Canterbury district resulted in two fines being issued to a trader.
The joint operation between Canterbury City Council and Kent Police took place on Tuesday 10 January at a number of locations in the district as part of a regular programme of work to tackle the issues of illegal waste transfer and dumping that blight Kent's countryside.
It aims to engage, educate and enforce on all environmental legislation, and to ultimately ensure businesses run legitimately so authorities can trace the origin and destination of all scrap and controlled waste.
This approach also supports those businesses that do follow the rules by disrupting those who do not.
During the operation, a number of traders were stopped (one of which is pictured above) while conducting their business, resulting in the following action:
The owner of a white Ford transit van was stopped on Wincheap in Canterbury where it was established he was transporting scrap waste without being in possession of a waste transfer note and for not holding the correct licence for the activity he was engaged in. He was issued Fixed Penalty Notices for both offences totalling £600.
A further five vehicles were stopped where scrap and licensing offences were identified. These drivers are required to produce the relevant documents to the council or they may face being issued a Fixed Penalty Notice or prosecution. The Notices given under the Environmental Protection Act 1990 require businesses to possess the correct Environmental Agency licence to transport waste and also keep retrievable records of where waste is collected from and where it is deposited.
In two other cases where vehicles were stopped, the drivers produced all the licences and paperwork they are required to carry by law.
Canterbury City Council's Cabinet member for enforcement, Cllr Ashley Clark said: "Our green and pleasant land is blighted by the consequences of waste that is not collected and disposed of in accordance with our licensing system.
"Those who breach the rules can be assured that we and the police will be vigilant in our role to ensure things are done properly. When things go wrong we all end up paying to put things right. Rogues must not profit from breaking the rules."
Sergeant Darren Walshaw from Kent Police's Rural Task Force said: "Breaches of waste licensing rules are all too often connected to fly tipping, which impacts the environment and our rural communities. Those dealt with are also often linked to other offences.
"Operations with partner agencies take place regularly across the county and lead to action being taken against those who flout the rules of waste carrying. The operation also gives us vital information about individuals and vehicles potentially linked to other forms of criminality."
Anyone considering having waste removed from their property should check the waste carrier they are using is licensed to carry out this activity, or they too could be at risk of a fine. The Environment Agency website has a list of licensed waste carriers.
The council uses all lawful means open to them to tackle controlled waste crime. Anybody with information regarding these types of crimes is encouraged to report them on the council's website or through Crimestoppers on 0800 555 111.
Published: 24 January 2023