Lazy people that litter and louts targeted in comprehensive plan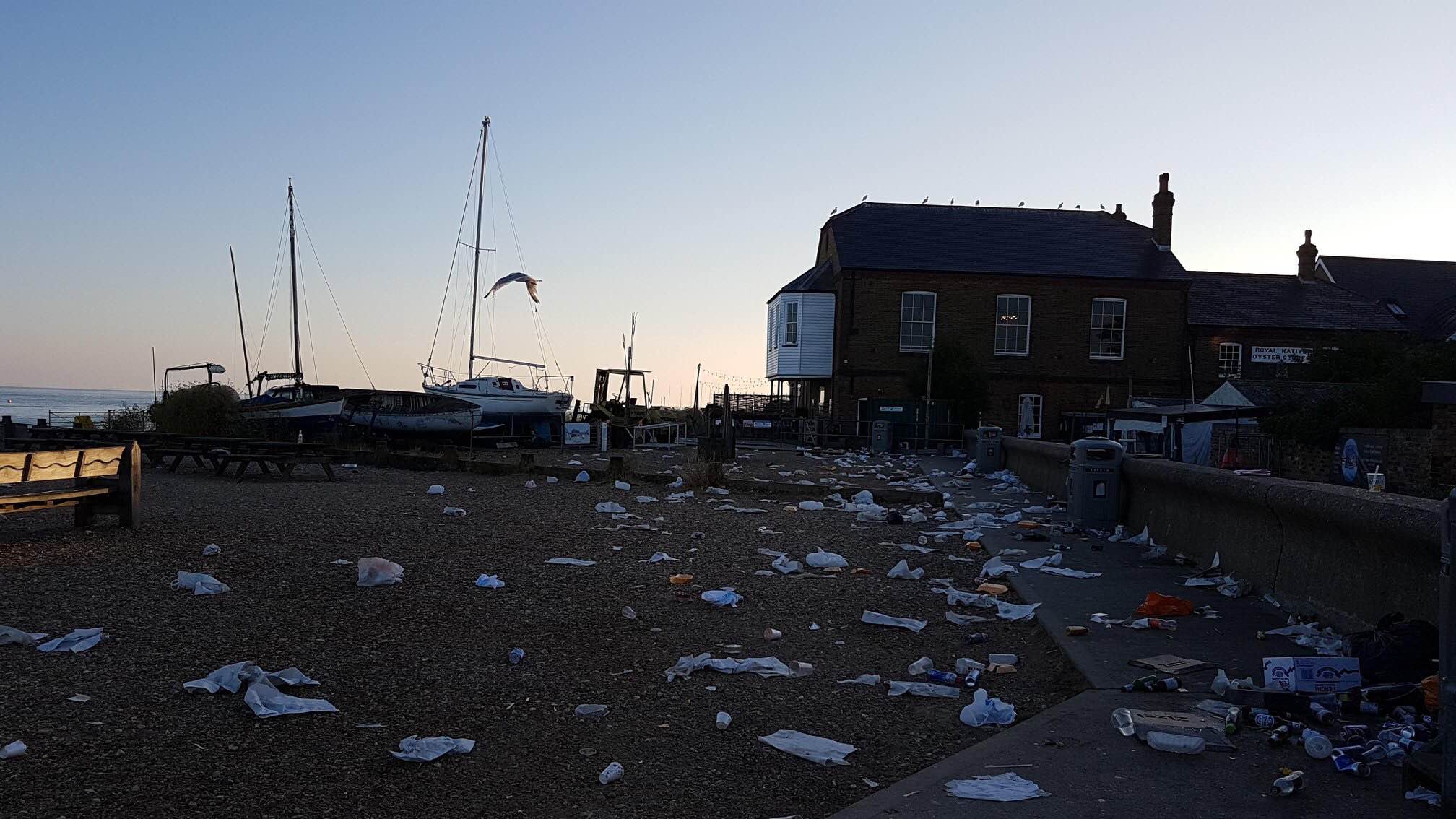 Pictures of piles of litter and reports of anti-social behaviour in the district's coastal towns have dominated the headlines in recent weeks resulting in petitions and open letters.
This week Canterbury City Council has launched its Herne Bay and Whitstable Coastal Management Plan which outlines the action it was already taking behind the scenes and its response to new problems such as the use of nitrous oxide canisters by young people which are then discarded on the beach, underage drinking and poor behaviour by a minority of jet skiers.
The plan highlights the close cooperation between the city council, Kent Police, the Kent Fire and Rescue Service, the Maritime and Coastguard Agency (MCA), the council's contractors and businesses.
It also contains important information on public toilets and the reopening of play areas and tennis courts.
Leader of the Council Cllr Robert Thomas said: "The warm weather, the number of people who have been furloughed, and the schools and colleges being closed has effectively started the summer holidays early.
"This, coupled with the continuing relaxation of the lockdown restrictions, has meant our coastline is more attractive than ever to visitors – at a time when local people are using the facilities on their doorstep more than ever before too.
"This has resulted in widely-publicised problems with littering and anti-social behaviour which has affected the quality of life of residents living nearby. A picture which is mirrored in most seaside resorts around the country.
"Our council taxpayers should not have to foot the bill for the actions of the selfish few who think nothing of tossing their litter on the beach or pavements, including metallic gas canisters, drinking too much and causing small pockets of chaos.
"Residents don't deserve it and nor do the businesses who rely on Herne Bay and Whitstable being portrayed positively as they try and get back on their feet after the pandemic."
New measures include:
Consulting on a jet ski membership scheme, closure of the Hampton launch ramp and extra staffing
Consulting on new Public Spaces Protection Orders (PSPOs) including making it an offence to possess nitrous oxide canisters
A barrier and bollard system at Whitstable Harbour's West Quay
Large wheelie bins in four key locations on the seafront
Licensing officers and Trading Standards officers working with retailers to curb underage drinking
A new anti-littering campaign showing the impact on wildlife and stickers on existing bins warning people leaving litter by the side of them is an offence
A whole raft of measures were already in place, including:
Joint operations with Kent Police including the recent use of police-authorised dispersal orders in Whitstable and Herne Bay
Sharing intelligence to help the coastguard to target their patrols
Regular patrols by our Enforcement Officers
912 litter and dog poo bins in the coastal towns and on the seafront
Dedicated beach cleaners patrolling the seafront and picking up litter supported by an early-morning clean
Regular cleaning of our public toilets
Cllr Thomas added: "Our Herne Bay and Whitstable Coastal Management Plan for this summer brings together the enormous amount of work we were already doing to tackle these issues while dealing with the consequences of the coronavirus pandemic.
"Our plan also outlines how we plan to tackle new problems that have manifested themselves this year – poor behaviour by a minority of jet skiers, use of nitrous oxide canisters by young people which are then discarded on the beach and underage drinking.
"This document is not set in stone. This will be a unique summer so we will need to adapt as it develops.
"We are meeting regularly and working with a wide range of organisations whose aim is the same as ours, to ensure our coastline remains a safe and really enjoyable place to live in and visit."
Take part in the consultation on PSPOs and on the jet ski membership scheme from tomorrow (Friday 10 July).
Published: 8 July 2020