Leader takes fight to fix Stodmarsh to the heart of government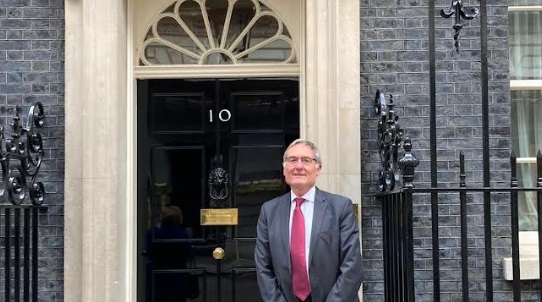 Canterbury City Council Leader Cllr Alan Baldock took the battle to protect the Stodmarsh nature reserve while dismantling the barriers to building much-needed new homes across parts of the district to the heart of government on Monday (17 July).
Cllr Baldock visited 10 Downing Street to meet Prime Minister Rishi Sunak's special advisers and call on him and his ministers to take ownership of the issue at a national level.
It follows a joint letter from the District Councillor Network signed by a host of council leaders across the country and the political spectrum calling on Mr Sunak to act.
Cllr Baldock said: "District councils across east Kent and across the country are working hard and spending council taxpayers' money to tackle this issue which stifles our ability to deliver new homes, especially those that are affordable, and has a chilling effect on our economy and its ability to create jobs.
"Not building homes isn't the only solution to fixing the biodiversity at Stodmarsh – new housing is estimated to account for only 0.2% of the nutrient pollution problem.
"We need the challenges associated with so-called nutrient neutrality to stop being kicked around Whitehall with ministers and civil servants passing the buck among themselves and with Natural England and the Environment Agency.
"We need the Prime Minister to get a grip of this issue and get everyone working together at the centre of government."
Development across the country and in county has been stalled because of Natural England's concerns over the effect homebuilding and new overnight accommodation for tourists will have on water quality at European protected wildlife sites, in this case those that are fed by the River Stour and especially the Stodmarsh National Nature Reserve on the outskirts of Canterbury.
Natural England says that until water quality at Stodmarsh is protected and restored to a good condition, new developments cannot go ahead until it can be proven they will not make the situation worse especially when it comes to phosphorus and nitrogen which can cause too much algae to grow and affect the area's ecology.
The number of homes that are currently held up with current planning applications across the Stodmarsh catchment in east Kent is 7,145.
That includes around 3,000 affordable housing units. Of these 1,750 are in the district of Canterbury.
A further 6,000 homes are held up as planning applications for these have not been made because of the need for this issue to be resolved.
The viability of strategic or large developments is impacted by the need to pay for mitigation such as wetlands or onsite wastewater treatment works to clean the water before it reaches Stodmarsh which puts developer contributions towards education, other important infrastructure and affordable housing in jeopardy.
Small and medium-sized developers have no ability to include such mitigation in their schemes and are the hardest hit with their development sites stalled.
This impacts negatively on the supply of homes for local people as well as the local economy.
A catchment-wide approach is being developed with the five Kent councils that are impacted by the issue, working with the Environment Agency, Natural England and Southern Water.
Published: 21 July 2023