Let's work together to get recycling sorted says council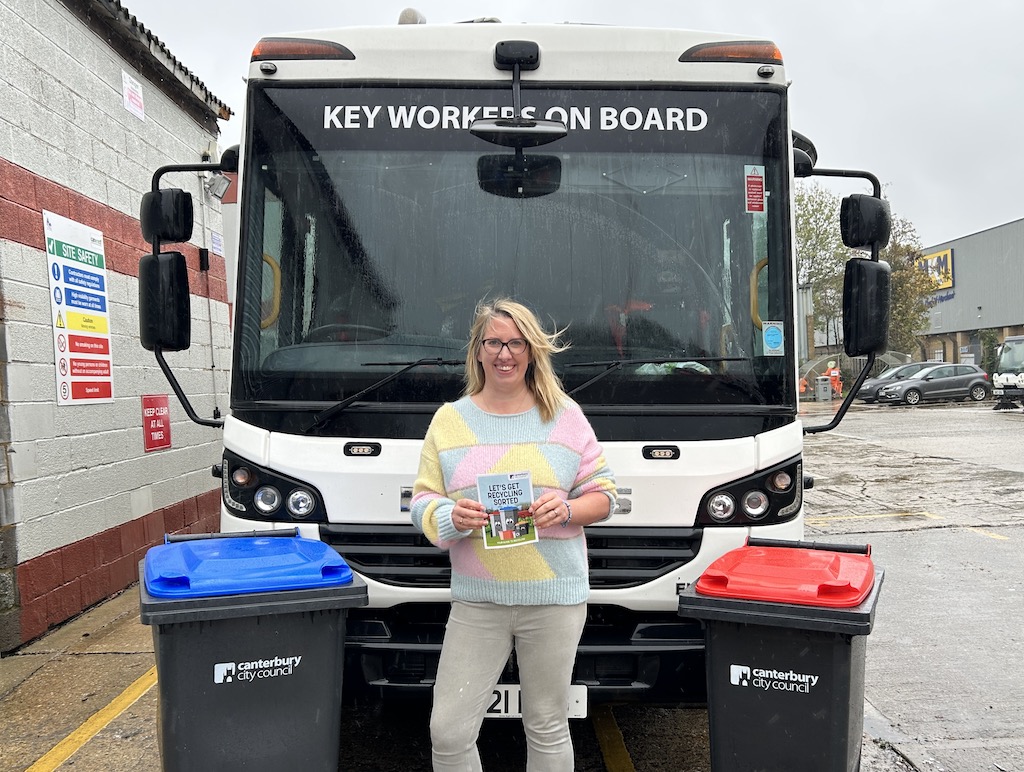 Helping residents to get their recycling sorted is at the heart of a new campaign being launched by Canterbury City Council this week.
A brand new printed guide to recycling called Let's Get Recycling Sorted will be landing on people's doormats from today (Monday 13 November) and is designed to help us all work together to drive up recycling rates and cut contamination across the district.
The guide is the first of many initiatives being launched as part of the campaign with helpful stickers set to be stuck on all household bins over the coming months.
Stickers will list what should and shouldn't go in each bin to make recycling that bit easier if you don't have your printed guide to hand and have been left scratching your head in confusion.
Cllr Charlotte Cornell, Cabinet member for waste and recycling, said: "As a really busy working mum-of-three, I understand knowing where to put your waste can be a real minefield.
"It can be tricky to know where to recycle some items and it can take time that many people don't feel they have.
"That's why we want to make sure residents have all the information they need to be master recyclers. People should be able to recycle quickly, clearly and without stress.
"The initiatives we're introducing are all about ensuring we can recycle as much household waste as possible in order to save energy, raw materials, cut greenhouse gases and help the environment.
"And it is a big thank you from me to everyone already taking the time to recycle their waste correctly and hopefully we'll have even more people nailing it by the end of the campaign!"
The campaign is just one way the council will be engaging with residents on this issue.
Cllr Cornell said: "Over the next few weeks, I'll be answering questions on local Facebook Plastic Free and Grot-spot groups.
"Teaming up with community environment action groups across the district will help us identify those tricky items that don't fall naturally into our council recycling streams and let people know where to take them."
Discounts on red and blue bins and boxes are also being offered to get more people separating their paper and card from their tin and glass.
Plus, the council will be publishing messages on its social media channels to help debunk recycling myths and show why it's so important to get recycling sorted.
The campaign comes as Canenco crews prepare to start cracking down on waste contamination from January 2024 in an effort to maximise how much household waste is recycled.
From next year, loaders will be checking for items put in the wrong containers and will leave contaminated bins uncollected as well as attaching a hanger notice explaining what to do next.
With entire truckloads of recycling having to be diverted away from recycling facilities due to containing too many incorrect items, it's hoped the new measure will tackle one of the biggest challenges the council faces in boosting recycling rates.
Cllr Cornell added: "Of course the ultimate aim of this campaign is to get residents so clued up that crews barely have to use the hangers, but when they are used we hope they'll nudge those not quite getting it right to brush up on their recycling skills.
"We had this campaign planned before the industrial action earlier in the year and we want to again say sorry for the disruption, especially to recycling collections, and thank people for their patience.
"We know thousands and thousands of people did all they could to keep on recycling until the dispute was over."
Residents unsure of where to put their waste can also use the council's online tool as well as find out more about recycling contamination here.
Published: 13 November 2023