Plan put in place to ensure coastline remains jewel in district's crown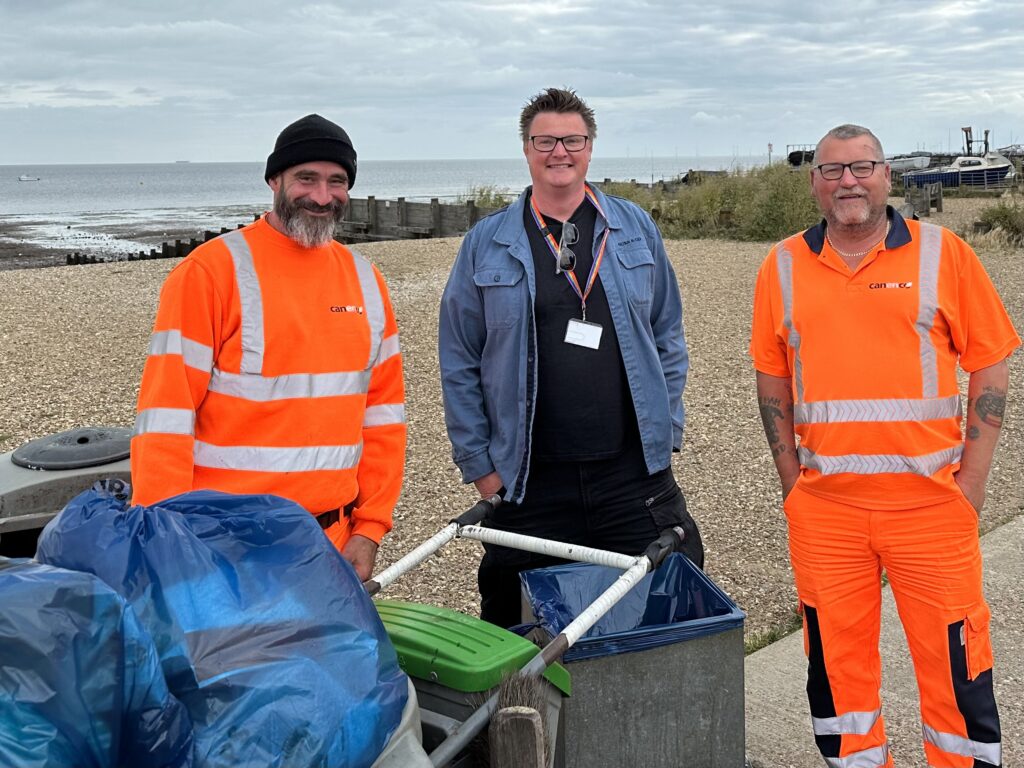 We care deeply about our gorgeous 14-mile coastline, the communities that live there, the businesses that trade there and the thousands of people who visit it each year.
That's the driving force behind Canterbury City Council's Coastal Management Plan 2023 and the creation of a Cabinet post to speak up for our coastal towns.
The plan, which has been launched this week, ensures the hard work carried out by a number of teams across the council successfully combines with the extensive efforts of a wide range of organisations to ensure our coastline remains a jewel in the district's crown.
And it lays the groundwork for future improvements like even bigger bins and those that encourage recycling.
Cllr Chris Cornell, Cabinet Member for Coastal Towns, is pictured above with Canenco workers Mark Tappenden (left) and Danny Burns.
Cllr Cornell said: "For too long people have felt the council is too Canterbury-centric and we intend to change that.
"Our coastal towns have ongoing and unique problems with littering, anti-social behaviour and the pollution of our waters which we are determined to solve.
"This plan aims to be honest with the community about our challenges, explain the rationale behind our approach and encourages the sharing of new ideas."
The Coastal Management Plan 2023 focuses on a whole host of important issues including:
tackling littering
ensuring beach and water safety for users
improving water quality
tackling anti-social behaviour in all of its guises
keeping on top of graffiti
boosting biodiversity
The plan also busts a number of myths and sets out expectations around what the council will deliver.
Cllr Cornell said: "Litter left on the beach is a tricky problem which we can all do our part to solve.
"The council has 912 litter and dog bins along its coastline that are emptied up to nine times a day by crews that work between 4.30am in the morning and 8.30pm at night.
"While we understand people tend to party until it gets dark, it's simply not it's not safe for crews to litter pick at that time of night and when our early crews start it takes them a while to work there way up the coast
"As a coastal councillor, I understand that there is a clash between the night owls and the early birds – two very different groups of beach users.
"We apologise to the latter because we get the fact some beaches are not at their best when they venture out.
"Bigger litter bins were installed in 2019, every year we bring in extra 1,100 litre bins and we've found ways to reduce the number of times crews need to take rubbish to the tip so they can concentrate on collecting litter.
"We are exploring other options too like even bigger litter bins, installing recycling bins as well as launching a campaign urging people to find an empty bin to put their rubbish in or to take it home in the coming weeks.
"We also recognise the important role community environmental groups play in keeping our beaches clean – something we really thank them for – and are determined to forge stronger links and communications channels with them."
Published: 21 July 2023