Parish Charter puts public centre stage with even closer working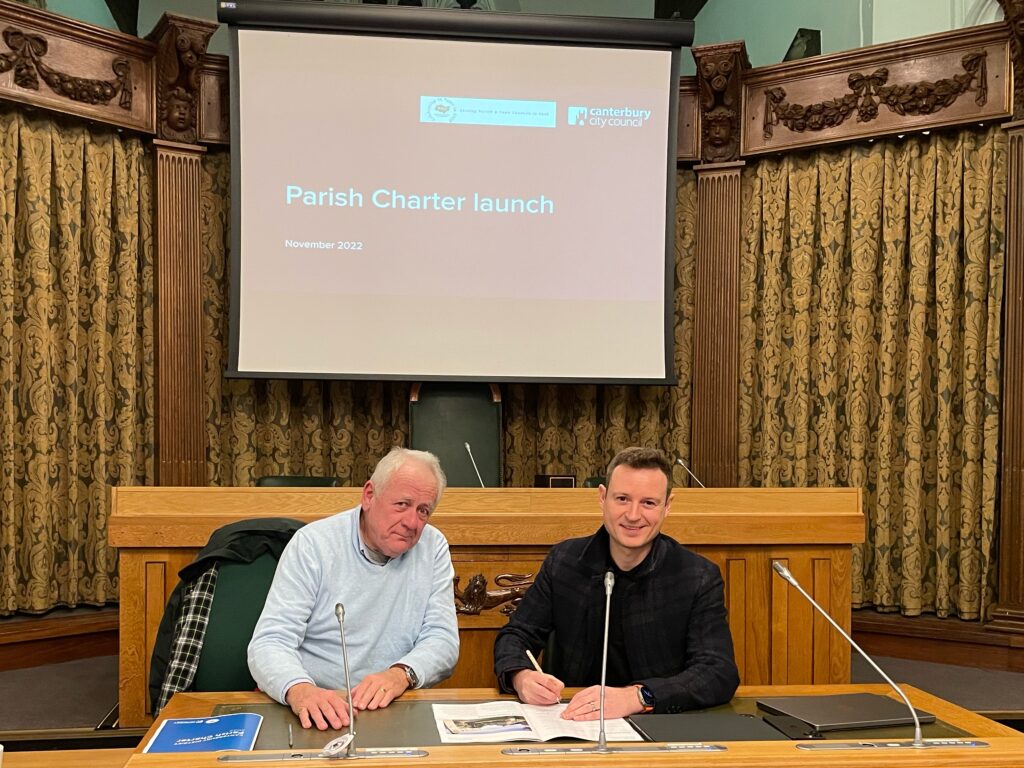 Working together to help improve the lives of those living, working and studying in the district was at the heart of a new charter signed in a ceremony last week.
As part of the Canterbury District Parish Charter, Canterbury City Council and the Canterbury Association of the Kent Association of Local Councils (KALC) which represents the 27 parish councils in the district, have recognised each has a democratic mandate and each has a common purpose to serve the public.
Robin Treacher, Chair of the Canterbury Association of KALC and Vice Chair of Wickhambreaux Parish Council said: "This charter is designed to act as a magnet to draw together two tiers of local government.
"It embodies a desire to hold our authorities close together as partners working in a spirit of trust and cooperation.
"And the ultimate aim is to deliver better services to the communities we serve by making the very best use of the resources we each have at hand."
The charter's core commitments include:
working together to promote economic, social and environmental wellbeing and tackle the significant challenges facing the district
valuing the roles, responsibilities and opinions of respective councils and be aware of a common purpose to serve the public
respect the democratic mandate of individual councils
work together to answer people's queries at first point of contact
form a positive working relationship between ward councillors and parish councillors within the area they represent
The charter goes on to outline the expectations of both sides when it comes to:
communication and information sharing
consultation
service delivery
democracy and community leadership
finance and funding
planning
monitoring and reviewing the arrangements
Cllr Ben Fitter-Harding, Leader of Canterbury City Council, said: "This charter formalises a process that has been going on for some time – growing respect for what each tier of local government delivers, valuing each of our roles and mandates along with an increasing recognition of the challenges the district is facing.
"Those challenges are not going away – they always come thick and fast – but by tackling them together rather than in isolation means we have a greater chance of taking the opportunities that come our way and having a sensible and respectful debate on the very rare occasions that we disagree.
"Rather than a document gathering dust on a shelf, it is now our collective responsibility to embed the commitments we've all made in our day-to-day operations and in our relationships full stop.
"I want to thank the parish council representatives for the enormous amount of work and time that has gone into this charter and want to assure them it has been worth it.
"I also want to thank Cllr Barbara Anne Flack, now Cabinet Member for Place, for all of the work she has put into this document and into building relationships with the parishes over many years."
You can read the charter in full by visiting canterbury.gov.uk/parishcharter
Published: 28 November 2022