Protecting the district from flooding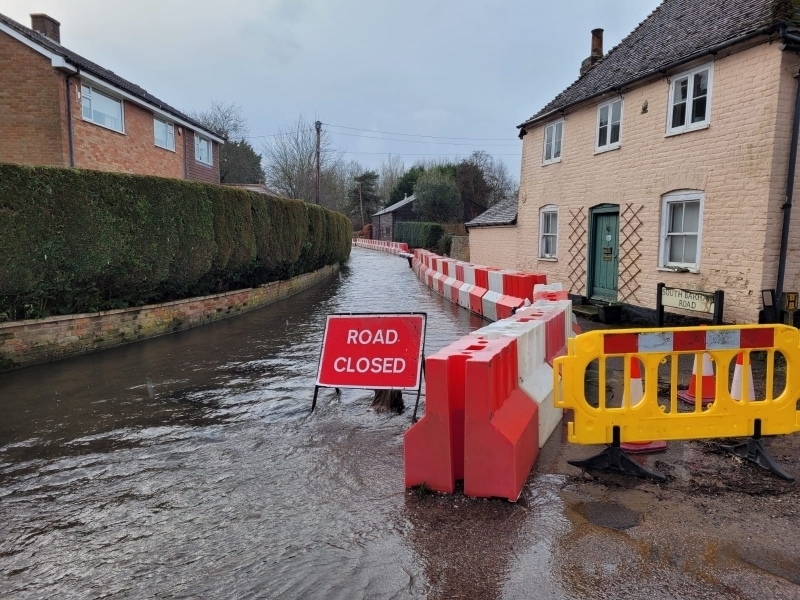 With the Nailbourne starting to flow in Barham and persistent heavy rain a major feature of the weather this week, our experienced, hard working engineers have been out and about protecting vulnerable areas of the district and liaising closely with the Environment Agency and Kent County Council.
The first phase of our flood barrier deployment (pictured) along South Barham Road in Barham, which is now closed, started yesterday (Tuesday) and is due to be completed later today.
Additional flood barriers and strategic sandbagging will be deployed along the Nailbourne if required. The Causeway in Barham will be closed today and in Bridge, the floodgate at the Mill Lane ford is likely to be closed today.
Continuing heavy rain this week will further raise levels in the Nailbourne and the river Stour. Levels remain high on the Stour through Canterbury and Fordwich and there is also a Met Office Yellow Warning in place for the impact of Storm Christoph.
We are keeping a close eye on levels in the coastal brooks, which are also likely to rise as the rain continues. And alongside all of this, our engineers have also been operating sluice gates and checking screens at our brooks and rivers for debris.
We would urge householders to sign up to the Environment Agency's flood warning service which will let them know if a flood could affect their area.
Concerns about flooding should be reported to us on 01227 862000 during office hours. In an out-of-hours flood emergency only, call 01227 781879.
We have had people asking about our approach to sandbags, so here it is.
We will try to deliver sandbags to residential properties in imminent danger of internal flooding, ie where there is a high risk of water entering the home itself as opposed to garages, sheds, greenhouses, outbuildings, gardens or driveways.
We will also try to deliver sandbags to commercial premises where there is an urgent need, but residential properties will be treated as an absolute priority.
Sandbags will not be sent out to protect sites such as allotments, agricultural land, recreational land or parks.
We cannot guarantee we will be able to deliver sandbags quickly enough to prevent flooding as demand is likely to be high across the district and our resources of materials, vehicles and manpower will be severely stretched.
Therefore householders and businesses are strongly advised to make their own preparations if they are in a location that is vulnerable to flooding.
Published: 20 January 2021