Secrets of thousand-year-old mummified head unearthed by scan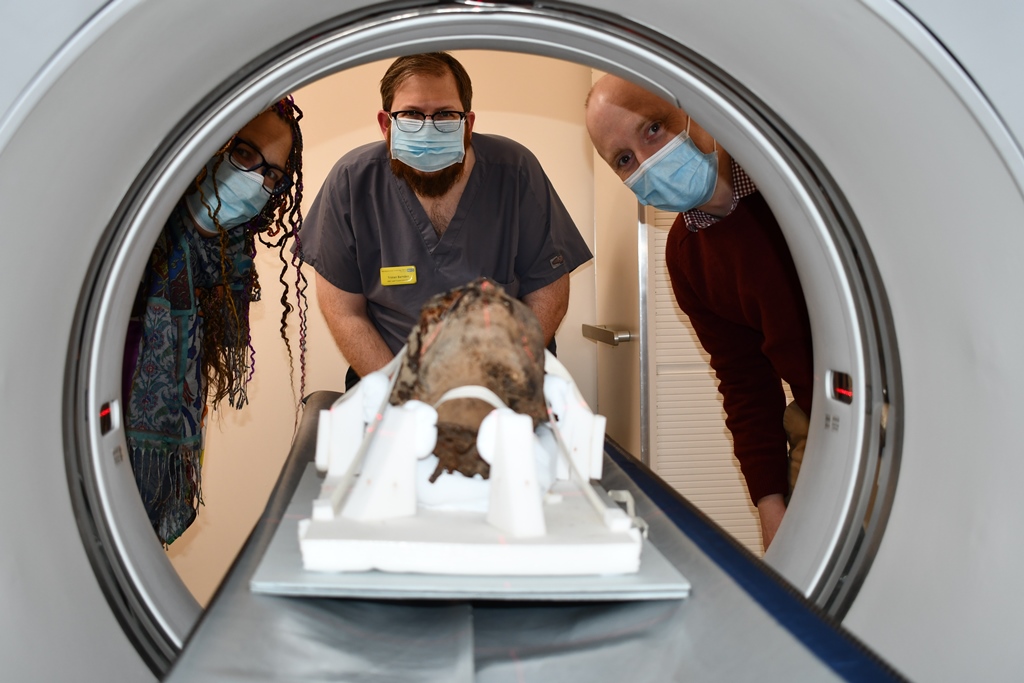 An ancient mummified Egyptian head has been examined using a computed tomography (CT) scanner revealing the hidden history inside.
Gifted in a glass case to Canterbury City Council's Canterbury Museums and Galleries collection, very little was known about the head.
However, the head, which was scanned at Maidstone Hospital, was thought to have been brought to the UK from Egypt as a souvenir in the 19th century.
Cllr Barbara Flack, Canterbury City Council's Cabinet Member for Place, which includes responsibility for its museums, said: "The mysterious head was rescued by the team when the private collector that owned it died.
"The head is being conserved so is not out on display but we have been desperate to know much more about it and are extremely grateful for Maidstone Hospital's team for giving up their own time and giving us the benefit of their extensive expertise.
"Once the results have been analysed and further research has been carried out, we can carry out a full ethical review and think about whether it should go on public display or be repatriated."
Initial x-rays undertaken at Canterbury Christ Church University suggested an adult female. However, a more detailed CT scan was organised at Maidstone Hospital to learn more about the individual.
Preliminary results indicate the brain has been removed, the teeth are well worn down by a rough diet and that the tongue shows remarkable preservation.
The scan was led by James Elliott, Senior Radiographer at Maidstone and Tunbridge Wells NHS Trust and also Lecturer in Diagnostic Radiography at Canterbury Christ Church University.
James, who is an expert in forensic radiography with a background in archaeology, said: "The scan provides a huge amount of information – everything from dental status, pathologies, method of preservation as well as helping our estimations of age and sex.
"We now plan to use the scanning data to create a three-dimensional replica of the head and possible facial reconstruction to allow a more intensive study of it."
James explained how mummification was 'common practice' within ancient Egypt but with the advancement of CT technology, more detail can be researched on ancient Egyptian traditions.
James said: "Beginning in 3,500 BC, mummification was seen as a way to safeguard the spirit in its journey to the afterlife.
"Ironically, the ancient Egyptians believed that a person's mind was held in their heart and had little regard for the brain. Regardless of this, the brain was removed to help the preservation of the individual."
Ritchie Chalmers, Chief of Service for Core Clinical Services, said: "It's very exciting that Maidstone and Tunbridge Wells NHS Trust is involved with this project. It's great to see how modern technology can help bring ancient history to life."
The mummified cat on display at the Beaney was also subject to a CT scan at Maidstone Hospital.
On top of that, the cat was scanned using a new micro CT scanner at the University of Kent by Professor Matt Skinner, Professor of Biological Anthropology and Director of the Skeletal Biology Research Centre, and his team.
He said: "The scans revealed the complete cat skeleton is present, which was sometimes not the case, and that all the organs have been removed.
"With further research, the length of the cat's bones may help us identify the breed and the micro CT scans of the teeth will allow us to see how old it was."
Craig Bowen, Collections and Learning Manager at Canterbury Museums and Galleries, said many cats were mummified in the city of Bubastis, the centre of the cat goddess and buried in cat cemeteries.
He said: "To mummify a cat, the embalmers removed its insides and filled the cavity with earth or sand. They then wrapped it in bandages soaked in natron (salt) or resin.
"The cat's front legs were laid by its side and its back legs tucked up against its tummy."
The Nuclear Medicine Department at Maidstone Hospital does not offer patient imaging during the evenings or at weekends so the mummified head was scanned outside normal operating hours, meaning there was no impact on the service provision. Supervision of the imaging was also undertaken during staff's own time without expense to the trust.
Picture caption:
(Left to right): Dana Goodburn-Brown, Archaeological Conservator, Tristan Barnden, Lead Superintendent Radiographer in the Maidstone Nuclear Medicine Department at Maidstone and Tunbridge Wells (MTW) NHS Trust, and James Elliott, Radiographer at MTW and Senior Lecturer in Diagnostic Radiography at Canterbury Christ Church University.
Published: 25 July 2022