Severe Weather Emergency Protocol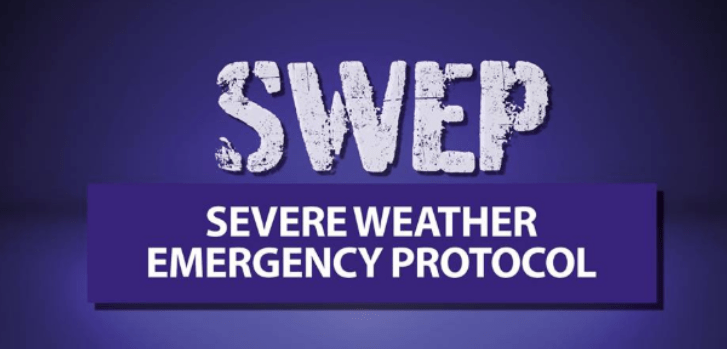 The Severe Weather Emergency Protocol is a humanitarian response to periods of severe weather conditions.
There is no single definition of severe weather and as such we take a flexible approach when considering its implementation. This includes, but is not limited to, periods when the 'feels like' temperature is forecast to drop below zero degrees centigrade for three or more consecutive days.
Anyone who is identified as sleeping rough within the Canterbury district, and who agrees to receiving assistance, is eligible to access our SWEP provision when it is activated.
We do, of course, take a proactive approach by speaking to any clients who may require support under SWEP. However, if you are aware of anyone who may need to access SWEP during activation periods, please ask them to contact us on 0808 196 8140 during working hours or our out of hours number 01227 781879 between 5pm and 8am.
If you have concerns about anyone you see sleeping rough, please let us know using Streetlink. We have a regular outreach service across the district and will aim to respond to any alerts in a timely manner.
Please provide as much information as possible about the location of the individual you are calling about.
It is important to note that even when SWEP is in place, we cannot forcefully intervene to provide an individual with support. Many people refuse help and this is their right.
Therefore, should you contact us about a rough sleeper, you should not necessarily expect to see that individual removed and placed into accommodation.
This is not because the authorities have failed to react to your report, but because the individual has declined support.
Published: 25 November 2021