Three unsung heroes presented with Lord Mayor's Awards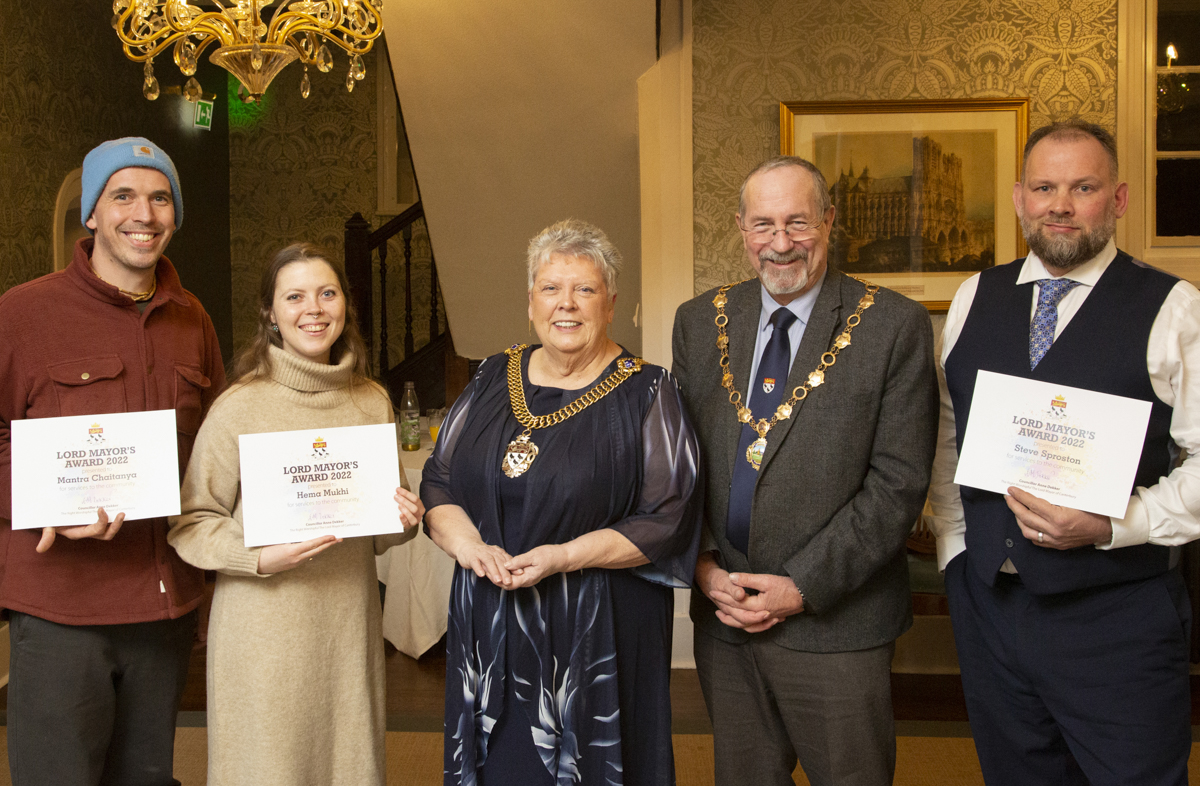 Three local residents who do amazing work in the community to help others have been presented with Lord Mayor's Awards.
The scheme recognises the unsung heroes of the district, and at a special ceremony at Tower House last Thursday (19 January), this year's deserving winners were revealed by the Lord Mayor of Canterbury, Cllr Anne Dekker.
The first recipient was Steve Sproston, who runs The Canterbury Bike Project. In his nomination, it was explained how, over the last year, the initiative has provided more than 30 bikes free of charge to people displaced by the war in Ukraine.
Recently, Steve has been working with Kent Refugee Action Network and has just expanded the Canterbury Bike Project into delivering Bikeability across the district, which helps remove charges to families for maintenance and provides young people with free bikes for the training.
He also donated more than 80 bikes to NHS staff during the lockdown to ensure they got to work safely, and since Covid has donated bicycles to local primary schools to improve mental and physical wellbeing to as many children as possible.
The other two recipients were joint winners Hema Mukhi and Mantra Chaitanya, who run The Big Drum. Their nomination explained how the project is a community space that provides meals for those that can pay, but especially for those who can't afford to feed themselves, all while diverting good food from being thrown away.
To date they have provided around 10,000 free meals as well as meals for busy NHS workers, and also offer a calm, relaxing, open environment where people can meet and an art and entertainment space.
This was the first time Lord Mayor's Awards have been presented since 2019 due to the pandemic, and the event saw the winners receive their awards and be thanked by the Lord Mayor.
Cllr Dekker said: "I was delighted to be able to host the first Lord Mayor's Awards in four years. It has always been one of the highlights of any civic year where we have the opportunity to recognise very special people.
"This year was no different, and from all the nominations we received, the judging panel was unanimous in its decision to present the awards to Steve, Hema and Mantra.
"They have helped so many people with what they do, expecting no thank you or special acknowledgement. But it is now their time in the spotlight and their success is richly deserved."
Pictured above, from left to right, are Mantra Chaitanya, Hema Mukhi, Lord Mayor Cllr Anne Dekker, Consort Ken Dekker and Steve Sproston.
Published: 26 January 2023