Update on books of condolence, flowers and flags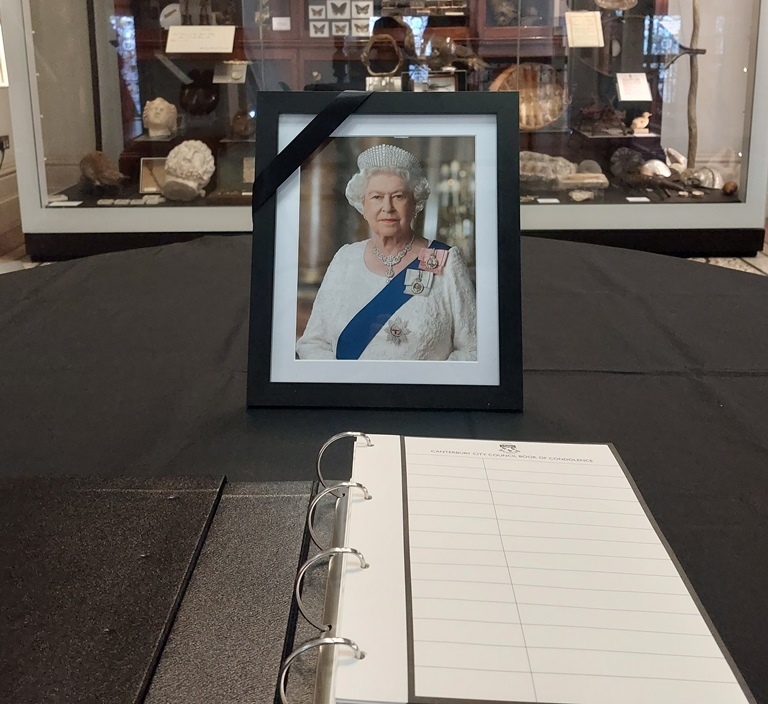 With the funeral of Her Majesty The Queen taking place tomorrow (Monday 19 September), we wanted to give you an update on the position with books of condolence, flowers and flags in the district.
Books of condolence at our buildings – the Beaney in Canterbury, Whitstable Castle and the King's Hall in Herne Bay – will close for contributions at 5pm on Tuesday 20 September. They will then be collected for safe archiving.
Please be aware that the book of condolence at the King's Hall will not be available tomorrow.
Flowers will remain in place until two days after the funeral. The locations are the Cathedral Precincts, Whitstable Castle and Herne Bay Memorial Park, at the war memorial itself.
They will then carefully be removed and any cellophane taken off, and then composted and used on flower beds and around trees in the district.
Any artefacts and messages will be saved and taken to the Beaney for initial condition assessment. We are collecting items from current events, from newspaper cuttings to messages left by residents, to display in future exhibitions.
Flags continue to be flown at half mast. They will be raised on Tuesday morning and stay raised until Friday, when they will come down. We will then revert to the usual flag flying protocol as set out by the Department of Culture, Media and Sport.
We would like to say thank you to anyone who has laid flowers, signed a condolence book or came along to Sunday's Proclamation at the Buttermarket.
Published: 18 September 2022