We're in this together, no matter our sexuality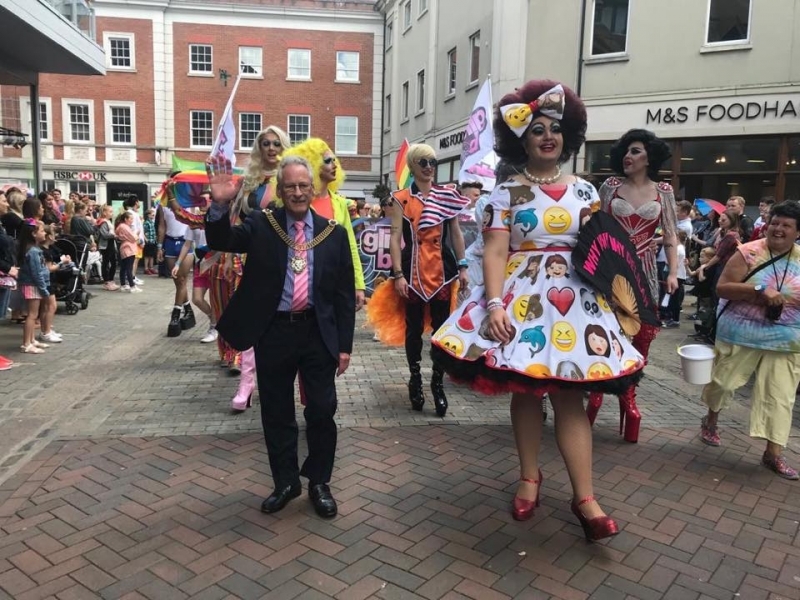 The scourge of the coronavirus pandemic means it has never been more important to recognise that we are in this together, no matter our sexuality.
That's the message today (Saturday 13 June) from the Lord Mayor of Canterbury, Cllr Terry Westgate, on the day the city was set to host the Pride Canterbury parade through its streets and a magical music festival in the Dane John Gardens.
Organisers announced on 20 May that this year's event was being cancelled but vowed to come back next year bigger, brighter and better than ever before.
Cllr Westgate said: "Leading the Pride Canterbury parade through the city in 2019 was one of the proudest moments in my time as Lord Mayor, even if I wasn't the most colourful of the participants in my dark suit and Gok Wan couldn't resist giving me fashion tips.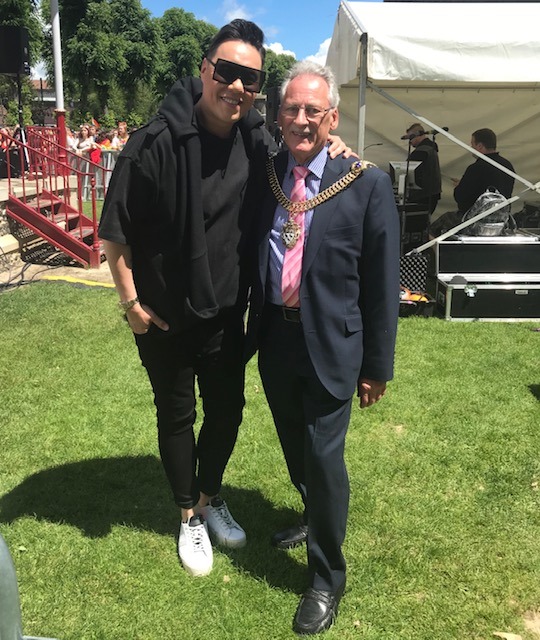 Cllr Westgate meets Gok Wan at Pride 2019
"It is an event that shows off the desire of the district to welcome everyone with open arms regardless of their sexuality.
"While our differences are there to be cherished and celebrated, our common humanity should unite us at a time when we are facing this destructive disease together.
"The pressures of lockdown have pushed many of us to our limits and nobody has been immune from the stresses and the strains caused by the virus.
"I am proud to represent a district that has welcomed people from the outside for centuries because of the Cathedral and more recently because of our universities. It is a tolerant, respectful and resilient place and long may that continue.
"We will need to work together like never before to emerge from this crisis stronger, more resilient and ready for whatever life throws at us next because one thing is certain – the challenges are set to come thick and fast."
The city council had been determined to increase its involvement in Pride this year, having supported the event from behind the scenes since its inception.
It has raised the Pride flag in the Dane John Gardens today and will then fly the flag at its offices in Military Road and change the branding on its Facebook, Twitter and Instagram accounts to Pride colours for the rest of the month.
In addition, The Beaney and Pride are working closely together on a joint Pride celebration planned for a few weeks' time when The Beaney reopens.
Director of Community Services Suzi Wakeham said: "We were really looking forward to playing a much more public role in Pride this year, with a stall to show people the many benefits of working for the council no matter what part of the community you come from – including flexible working, adoption leave and shared parental leave.
"We also had plans to celebrate just how safe the district is too, as well as encouraging more of our staff and councillors to take part in the parade.
"While some of this obviously cannot happen now, we still have the Beaney celebration to look forward to next month. And of course we'll be carrying over this year's plans into 2021, which I'm sure will be a wonderful occasion."

Published: 12 June 2020