Writing's on the wall for district's graffiti vandals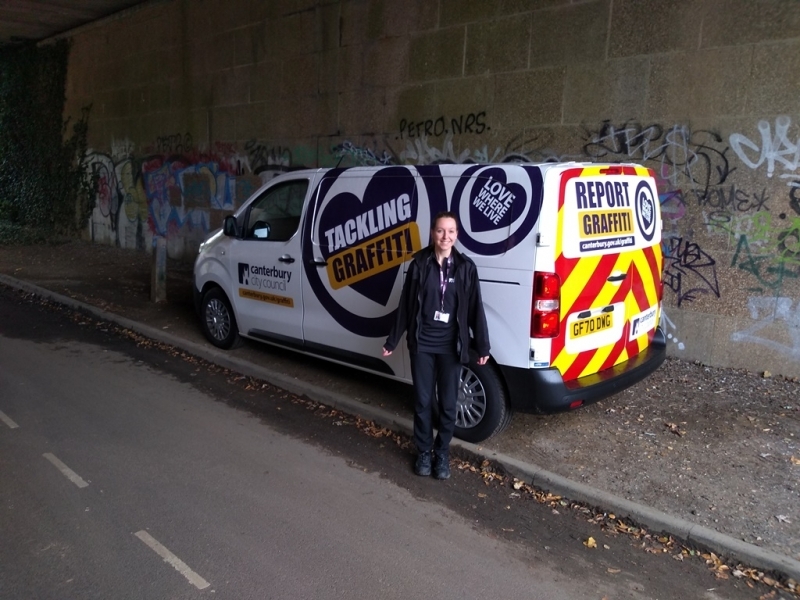 The writing's on the wall for graffiti vandals and taggers across the district thanks to a new crew dedicated to cracking down on criminal damage with spray cans and marker pens.
The sole focus of the team of Canterbury City Council Enforcement Officers will be to catch the taggers, get rid of graffiti and work with others to do the same.
Among them is new recruit and Environmental Enforcement Graffiti Officer Nicole Holt, who has a background in public health and was a researcher and sessional academic at Canterbury Christ Church University.
She said: "The Enforcement and Contracts teams from the council remove hundreds and hundreds of tags every year at an enormous cost to the council taxpayer but we are hoping to take it to the next level to prove to taggers that it is not worth wasting their paint or ink.
"The more our knowledge of the taggers and their tags increases, helped by information gained because of our offer of a £500 reward, so does their chances of getting caught and being dealt with by the police.
"Prevention is the other side of the coin so we need to help people protect their property from being tagged and that is why we're excited about our toolkit being launched this week.
"We also need to remind shops of their obligations not to sell spray paints to anyone under the age of 16."
In recent weeks, the council has blitzed parts of Wincheap in an effort to remove as much graffiti as possible. It is also working closely with the Canterbury BID (Business Improvement District) to clean graffiti from businesses in the city centre and to stop it from happening in the first place with the application of vinyls on the windows of empty shops.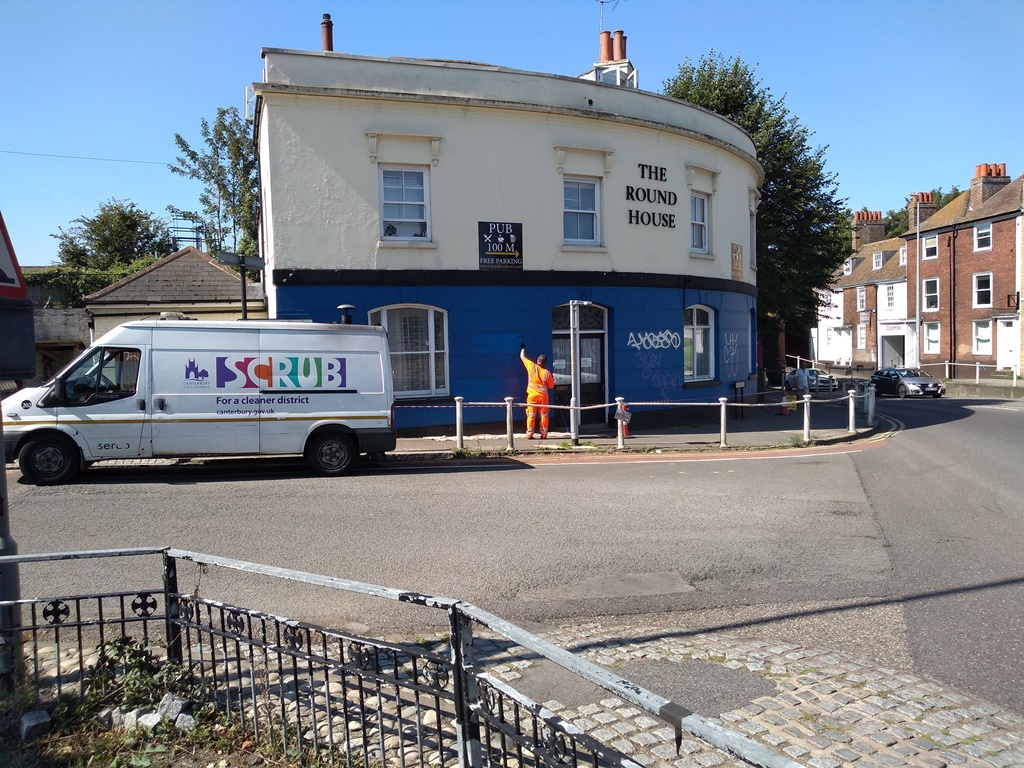 Graffiti cleaning in Wincheap
Lisa Carlson, Chief Executive of the Canterbury BID said: "It is important for Canterbury businesses that the city looks clean and welcoming to visitors.
"The removal of graffiti is an essential part of this work and we were pleased to be working in partnership with Canterbury City Council to help tidy up areas of the city that have suffered from repeated graffiti tagging."
Similar work has been taking place with Kent County Council, Kent Highways and utility companies like BT whose property is often targeted.
Chair of Canterbury City Council's Community Committee, Cllr Joe Howes, said: "We live in a beautiful and historic part of the world and it breaks my heart to see it blighted in this way.
"The vandalism caused by taggers is often labelled mindless but I disagree. To buy a spray can or permanent marker and find somewhere to use it is a very deliberate act of criminal damage that costs innocent property owners and the council taxpayer thousands and thousands of pounds to put right.
"At a time when businesses and the council are battling to overcome the enormous challenges caused by the pandemic, forcing them to divert their cash and resources away from the frontline is simply selfish.
"It is important we all take the time to report graffiti to the council and Kent Police so both organisations can see the extent of the problem, gather evidence and take action as quickly as possible."
Graffiti can be reported to the council online. It should also be reported to the police as criminal damage by calling 101 or by visiting their website.
If you have information about who might be responsible for graffiti or tags in the area, email graffiti@canterbury.gov.uk and you could be eligible for a £500 reward.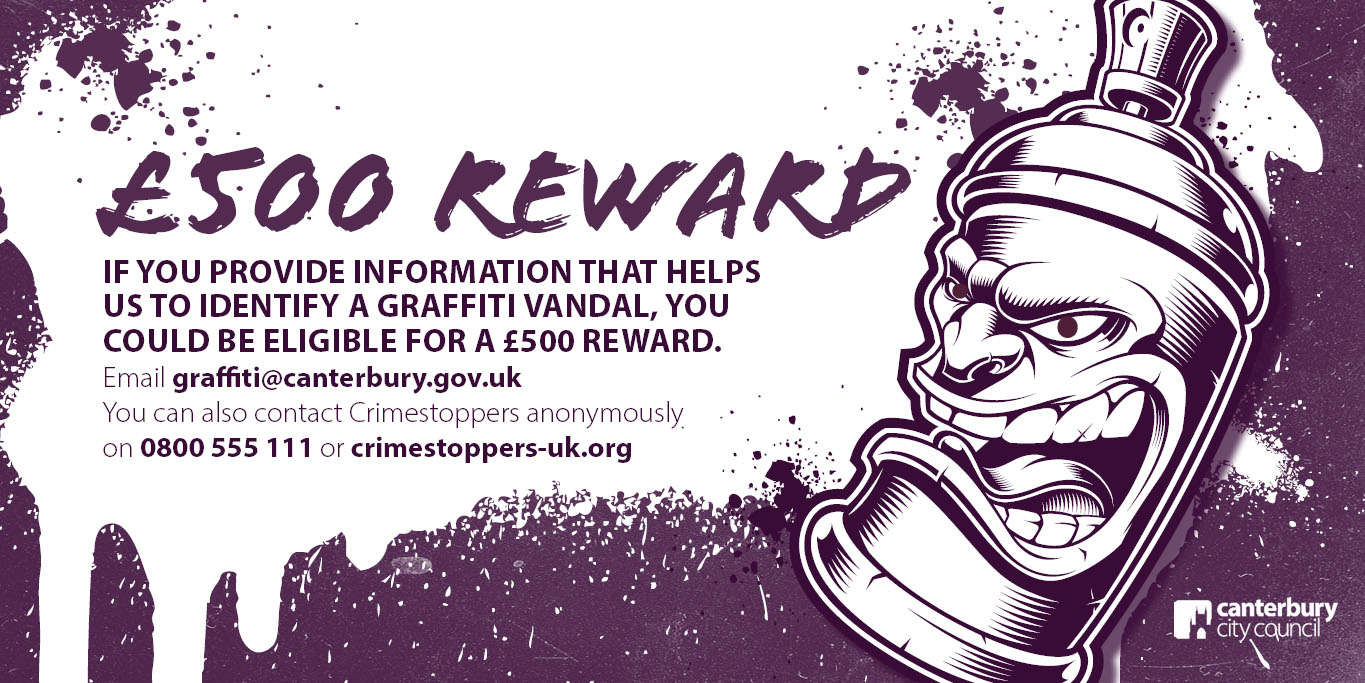 Awards are available for people who provide information about taggers
Postcards publicising our toolkit and the reward scheme are to be distributed among businesses in the city centre and elsewhere.
If you are interested in becoming part of the team dedicated to tackling the district's graffiti challenge, we are recruiting.
The council removes graffiti from people's homes free of charge up to four times a year. If the graffiti is on a business, we will remove it for free up to two times a year. Offensive graffiti is removed as quickly as possible.

Published: 19 October 2020