Student Safety Toolkit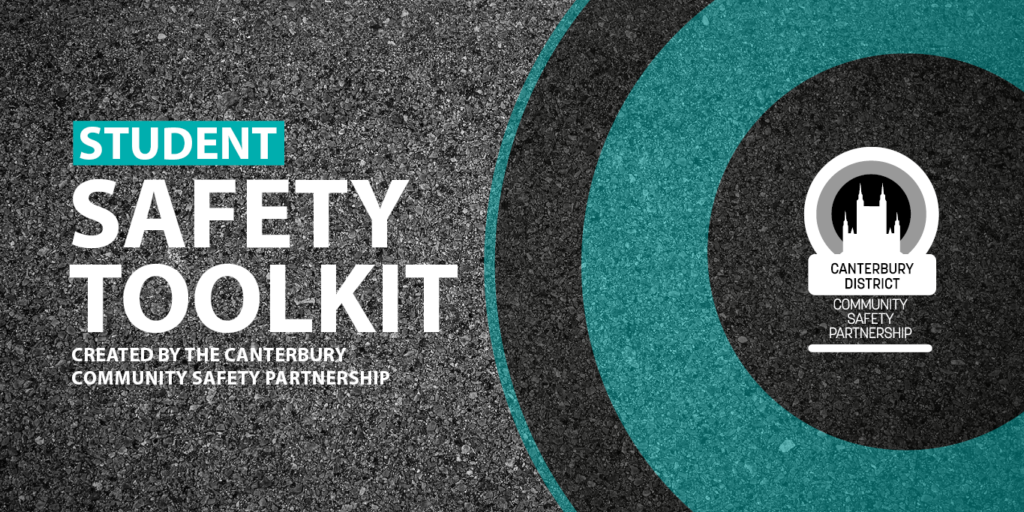 This Student Safety Toolkit has been created to help you stay safe whilst studying and enjoying all that Canterbury has to offer.
You can use it to find the safest routes back to campus after a night out, to find helpful safety apps and to understand what other support is available to you whilst you're here studying.
It has been put together with support from partners across the Canterbury Community Safety Partnership.
Safezone app
SafeZone is a free safety app for students at Canterbury Christ Church University or the University of Kent. You can use it to alert the Security team via your mobile phone if you need urgent assistance, first aid or if you have an emergency on campus.
Download links:
Connected Routes
The 'Connected Routes' are designed to help you get between the university campus, the city centre and your accommodation safely. There are a number of 24-hour refuge locations and the routes are monitored by emergency service patrols. The routes have been designed to avoid dark secluded alleyways.
Find out more about the Connected Routes app.
Lit Routes
Heading home after a night out in the city?
Stay safe by making sure you follow the #LitRoutes map. By following the map, you'll benefit from Street Pastor and Street Marshal patrols in and around the city centre. Both patrols are on hand to care for, listen and help you get home safely. Don't forget that the two subways on the route are also covered by CCTV for your safety. This is staffed 24 hours a day, seven days a week.
Street Marshals
Canterbury Street Marshals support students to stay safe when out and about in Canterbury at night.
They patrol popular student streets off-campus and routes to and from campus after a night out.
During term times patrols operate in the following locations:
St Michael's and the Headcorn Drive area – Wednesday, Friday and Saturday from 11pm to 4am
Martyrs Field, the area around Club Chemistry and North Holmes Road area – Wednesday and Friday from 11pm to 5am
Zero tolerance and expect respect
We want to create a culture where sexual harassment is not tolerated or accepted and supportive reporting mechanisms are easily available for anyone who has experienced any of these.
The Community Safety Partnership is working with the Universities, Canterbury BID and local venues to raise awareness, support those at risk and provide support to those in need of assistance including specialised Zero Tolerance training.
Find out the venues in Canterbury connected to Zero Tolerance
Students of Canterbury Christ Church and the University of Kent can report harassment or unacceptable behaviour anonymously via their report and support systems.
Ask for Angela
If you find yourself in a situation where you would like assistance, simply go to the bar you're in and ask for Angela.
This phrase will indicate to staff that you require help with your situation and a member of staff will then look to support and assist you. This could be through reuniting them with a friend, seeing them to a taxi, or by calling venue security and/or the police.
Ask for Angela is a national campaign supported by bars, pubs, and nighttime economy venues.
Safe Taxis
The Safe Taxi scheme can help you if you feel vulnerable and need to quickly and safely reach your accommodation in Canterbury or another destination, such as a police station or local hospital.
It's free, quick and simple to sign up to the scheme and you'll have peace of mind knowing that if you're in an emergency situation you're covered.
Find out more and register for the Safe Taxi Scheme.
Other useful links
Lots of useful information including finding your nearest police station, reporting anti-social behaviour, who the local PCSO is and how to apply to Kent Police.
Whether living in halls of residence or private accommodation, starting student life can often mean living on your own for the first time. The Kent Fire and Rescue website has lots of information on how to be a fire-safe student.
Find out everything you need to know about student council tax exemptions, parking permits, where and what to put in your bins, how to vote, where to report anti-social behaviour and much, much more.
This map produced by the Canterbury BID not only shows all the key places to go for a coffee and a new shirt but has transport links and locations of emergency trauma first aid kits and Defibrillator packs too (We hope you will never need to use these).
A student-run listening and information service supporting students throughout the night. Contact them by phone, IM, and email.
Advice on anxiety and depression for all ages.
A safe place for anyone experiencing a mental health crisis who lives in Kent and Medway. No appointment or referral is needed.
Email: Canterbury.mhm@nhs.net Phone: 07876 476 703
Age UK, The Centre, Castle Row, Canterbury, CT1 2QY
Access non-judgemental information and advice about crime and criminality -100% anonymously.
Honest information about drugs.
Report radicalisation or extremism (Prevent) to Kent County Council, or email prevent@kent.gov.uk.
A great website to understand the risks of alcohol and drink spiking, with Freshers week survival guides and facts about the effects of alcohol on your body.
The Canterbury Community Safety Partnership includes the following partners:
University Student Unions
University Community Life Teams
University Security Teams
Kent Police
Canterbury City Council
Kent Fire & Rescue
Kent County Council
Rising Sun (domestic abuse charity)
Canterbury Business Improvement District (BID)/ Purple Flag
Canterbury Night Time Economy Forum
Street Pastors
Police Crime Commissioner
Violence Reduction Unit
Fearless
and many others