Bin strike over as GMB members accept offer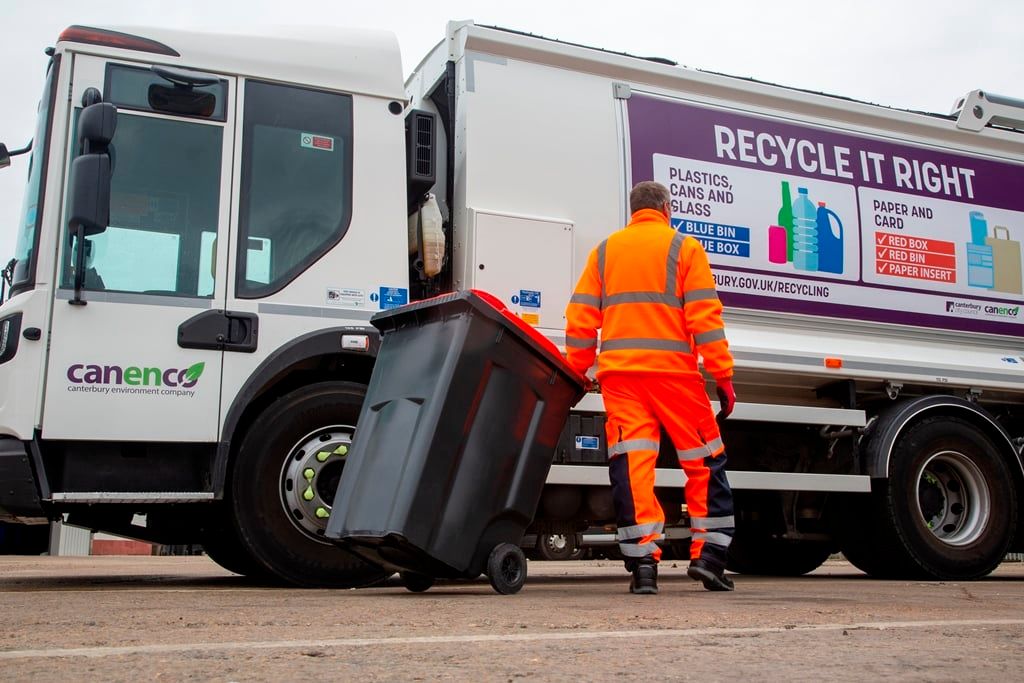 The strike by members of the GMB working for Canterbury City Council's waste contractor Canenco is over.
They voted to accept Canenco's latest offer at a meeting in the depot this morning (Thursday 7 September) after the company made a further offer during talks at Acas (the Advisory, Conciliation and Arbitration Service) yesterday afternoon (Wednesday 6 September).
They will return to work on Monday (11 September).
The offer, paid for by some of the savings made by striking workers not getting paid over the last nine weeks, forensic future efficiency savings and borrowing of up to a maximum of £40,000 from the council's savings or reserves, builds on one rejected by GMB members on 14 August by starting the pay deal on 1 November rather than 1 January.
The deal means £15 an hour for drivers, an overall 11.2% increase for 2023, and £12 an hour for loaders, an overall 12.2% increase for 2023.
The money to replenish the council's reserves, its savings for a rainy day, will need to be found as soon as possible and more information on how this will happen will be published in due course.
Leader of the Council, Cllr Alan Baldock, said: "We are happy that the strike is over.
"We know it has been inconvenient and disruptive for many people over the summer.
"We apologise for all the inconvenience and we thank residents for their patience.
"We've been clear this council will make financial decisions that are sensible and sound. We can't spend money that isn't there.
"In order to afford these pay rises, weeks of work has gone into calculating new routes, new efficiencies and forecasting future staffing models.
"Crews will be required to more regularly work close to their contracted hours, which is how operations in other areas of the country and in Kent are run.
"Some round sizes will be increased slightly in line with those working hours, but will be balanced to make sure work is allocated fairly for those affected.
"The pay rise was afforded from within Canenco's budget by making these changes.
"We have had to dip into the council's savings which are there to get us through shocks like unforeseen emergencies.
"Our reserves, which will be used to underwrite the cost of the extra garden collections Canenco has promised for March, will need to be replenished as soon as possible.
"In order to bring forward our pay rise offer to a November start, Canenco has also been forced to use some of the money saved from not paying striking workers, with the rest being used to pay for extra resources to help us catch up and for extra garden waste collections in March.
"We were clear to the public and the GMB from the beginning that we wouldn't cut other services to meet these pay demands and that stands.
"I know Canenco and its crews will now work really hard to do all they can to catch up."
C​ollections today (Thursday 7 September) and tomorrow (Friday 8 September) will continue to be for scheduled black bins and as many garden bins as possible.
This is because​, just like after a train strike when trains are not in the correct place to resume normal service immediately, refuse trucks​ have been moved to other areas of the district during the strike​ in order to keep as much of the service operational as possible.
An instant return to business as usual is therefore not possible purely for logistical operational reasons.
The full waste collection service, including all recycling, food and garden bin collections, will resume as soon as possible.
Further information about this and the arrangements for collecting extra waste outside of bins will be publicised in the near future.
Published: 7 September 2023