Council "not backing down" as bin strike reaches a fortnight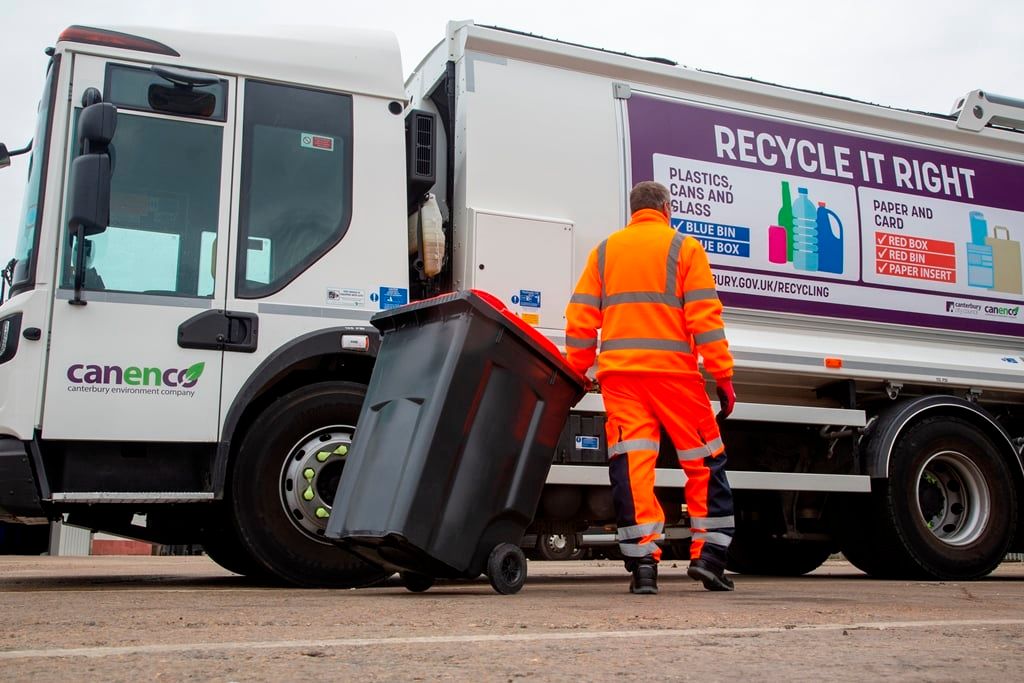 Today (Wednesday 19 July) marks two weeks since members of the GMB who work on the bin service at our waste collection contractor Canenco began their strike action over pay.
We hoped that this could be resolved quickly, but it is becoming increasingly clear that this action may now run for several more weeks, and we will not be changing our position.
The GMB yesterday confirmed strike dates up to 20 August.
A very good pay offer – £14.45 an hour for drivers (up £1.87 an hour, a 14.9 per cent increase) and £11.61 for loaders (up 95 pence an hour, an 8.9 per cent increase) – was overwhelmingly accepted by members of the only recognised union at Canenco, Unison.
The pay offer was backdated to the start of April and we were pleased to have concluded the process so that the increased salary appears in July pay packets, in time for the summer holidays – something the Unison members had said was important to them.
We urge GMB members to end their strike.
Why do we urge this? Because we are clear that we are not backing down.
Our Cabinet members have categorically stated that there is no more money to use to pay for pay increases for Canenco staff.
Meeting the GMB demand of £15 per hour for drivers and £12 per hour for loaders would add another £300,000 to the Canenco wage bill each year.
The only way money could be found is to cut services – those provided by Canenco itself, or other vital frontline council services such as dealing with rough sleeping or finding homes for those who find themselves without a bed for the night.
And the Cabinet is adamant that services will not be reduced to pay for wage increases above those that have been agreed.
So, if the GMB does continue its action until the stated date – or even beyond – where does this leave the situation with collections?
Canenco has the vehicle and staff resources to complete the full refuse (black bin/purple sack) service every day. This is our top priority and we thank the staff who are working hard each day to complete this for our residents.
Canenco is also emptying as many garden bins as possible every day, although the resources available mean that not everyone will get their collection.
On food waste, for now we ask residents to bag their food waste and put this in their refuse bin so that this waste can be collected.
In these circumstances, recycling is the lowest priority because it is not smelly rubbish. As it stands, Canenco does not have the resources to collect these materials.
We understand that, without collections, recycling will start to stack up, and we apologise for any inconvenience this may cause.
We know that some people will put these materials in their refuse bin. Others will book a tip slot. Some will be able to store them until the situation is resolved.
And two final points – garden waste refunds and council tax payments.
With garden waste being a paid for service, we totally get why people are asking for refunds. While we do not provide these if there is a strike by bin crews, we are looking at what we can do to help garden waste customers when the dispute is over. More will follow on this in due course.
And on council tax, while we know it is frustrating not to have your bin emptied, it is a legal requirement to pay this. Anyone who has cancelled or reduced their payments, or is considering doing so, is strongly urged not to, and there is no mechanism in place to give refunds.
It's a difficult message to give when we are in the situation we are in, but that is how it is and we can't say it any other way.
You can find answers to other key questions on our newsroom.
Published: 19 July 2023